In an uncertain economic environment, private equity investors are finding the education sector attractive for long-term investments. From just three deals valued at $21.6 million in 2005, investment in the sector till October this year has increased to $238.7 million, according to Grant Thornton.
So why are private equity (PE) investors looking at the education sector with a new zeal Arun Natarajan, managing director of Venture Intelligence, which tracks PE/VC investment in the country, says this sector has indeed been a favoured one among PE investors for the last few years, but this year saw several deals actually coming through. The attractive and predictable rate of return in this sector is clearly serving as a magnet for PE investors, he underlines. Mohanjit Jolly, executive director, Draper Fisher Jurvetson (DFJ) India, says, The mismatch between the sheer number of people to be educated and the dearth of quality education creates a tremendous short-term and long-term opportunity for education investments in India.
DFJ has invested in Delhi-based Catura, which provides digital content for CAT preparation for 10th to 12th graders, with the roadmap to be much broader across subjects and grades.
The reasons are far more than just the demand-supply mismatch. While insufficient supply and high demand offer opportunities for operational scale and top-line growth, multi-year enrolment and knowledge of attrition rates allow companies to better predict their revenue streams. Secondly, growth in enrolment is driven by the low-opportunity cost that a downturn creates for professionals to re-tool and re-skill and banks continue to provide collateral-free credit to fund professional education.
In fact, a CLSA report establishes the growing preference for private sector institutions. While 7% of Indias over 10 lakh schools are privately -owned, they account for 40% of the countrys 219 million students enrolled. In higher education, the report says, 77% of the 18,000 institutions are privately-owned.
Though these numbers may show a rosy projection for the future, a recent poll among PE/VC firms by Venture Intelligence found that 81% fund managers are willing to invest in education companies over the next few months, clearly indicating a very strong appetite for the industry.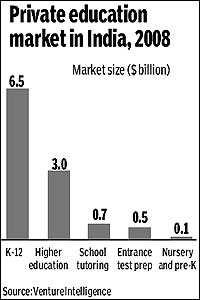 Currently, PE investors are putting in money in technology-based education infrastructure and applications to offline assessment and training institutions and application vendors like coaching classes and pre-schools. Some of the recent notable PE investments are Blackstone Group investing around $42 million in Everonn System, Matrix Partners investing $22.22 million in engineering coaching centre FIIT JEE and Franklin Templeton Asset Management investing $11.11 million in Career Point Infosystems, a competitive examination preparation company.
Experts say the opportunities are far more in these tried-and-tested areas and they should now look at newer segments in education. Harish HV, partner, Grant Thornton says PE investors should look at other support services, which range from text books for various exams, online helpdesks for students and teacher training institutes which are all part of the ecosystem for the business.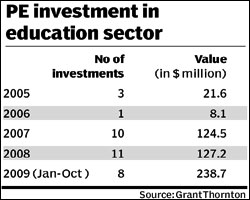 Thats a model even Dushyant Singh, director, strategic & commercial intelligence, KPMG, endorses as he says segments like K-12 and higher education are larger and are strong underlying growth drivers. They are profitable and barring any adverse change in legislation, PE investors will now begin to focus more on them. He adds that over a period of time investors will begin to focus on either asset heavy models such as K-12 and higher education or asset-light models like content-based or franchisee models. The main driver of investment will be the scalability of the business model and exit options for investors.
For scalability, the major bottleneck comes in the form of regulatory bottlenecks. The rules mandate that all formal education institutions in India to be run as not-for-profit centres under a society or a public trust. Any surplus funds generated in the process of running formal schools and higher education institutions have to be ploughed back into the same institution and no dividends can be distributed.
The not-for-profit tag, says Dushyant Singh of KPMG, is a drag on investment in the education sector, though business models have evolved that work within the current regulatory framework. Natarajan of Venture Intelligence says while, on one hand, the government wants to welcome private investments (including foreign), the need to work through non-profit trusts for K-12 and higher education causes a lot of ambiguity for commercially-oriented investors to enter the key segments of the industry. In fact, in the Venture Intelligence survey, 55% respondents felt that regulatory hurdles are a significant deterrent for investment in the education space.
Returns for private investors are fairly high with comparatively low earnings volatility.
Typically, a PE investor looks for a timeframe of around three to six years and a good return is anything above twice the invested capital. Similarly, a venture capital investor would target a five times multiple over five years.
Jolly of DFJ says a venture investor might be looking for a 10x multiple on his investment realising that the timeline to that exit is probably 8-10 years. On the other hand a true private equity investor might be just fine with a 4-5x multiple on his investment in a 3-4 year timeframe. Early stage venture investors have to be patient, especially in India where companies tend to take longer to scale than they do in the US, he says.
Exit options for private equity investors still remain nebulous. In the usual route, a PE investor looks for an IPO or M&A to exit from a particular investment. Analysts say since PE investment in education is still at its nascent stage, the fundamental focus of any company should be to create hopefully a large sustainable and profitable entity. With that as the goal, opportunities will present themselves either from the public markets or via an acquisition which could be from companies in peripheral space like assessment companies acquiring training companies and vice versa, or job placement companies merging with education companies, or offline and online companies merging or acquiring.
Though there are opportunities to create large standalone entities in education in India, exits for private equity investors will come through a combination of IPO as well as acquisitions. The classic example is Educomp, the first education solution company to get listed on the bourses. In October 2000, the company received $2.5 million funding from the Carlyle Group, a US-based private equity firm and five years later the company went public and the promoters have bought back the stake.
Investments in certain types of education businesses like K-12 require slightly longer investment horizons than most typical PE investments. Also, given that the industry is fragmented with a few scaled up, investors will need to bring in operational skills to manage their portfolio businesses. Given these factors, analysts say one may see education-focused funds being set up along the lines of those funds that have been set up to focus on infrastructure investments.