The business of private labels is booming. It is because, analysts say, they offer a win-win solution to both retailers and end consumers.
By eliminating the margin of middlemen, retailers pass on the benefits to consumers. Besides, private labels enhance the bargaining power of the retailer while negotiating with the manufacturer brands. A recent KPMG report has estimated its market size at Rs 6,500 crore. Its hardly surprising that even Birlas and Ambanis have a presence in the market. All are upbeat.
For example, Reliance Fresh and More have extended their private labels range to cover a large number of items and have been quite successful. Retailers like Koutons and Cotton County too sell a range of private labels and quite successfully. Megamart of Arvind brands is also adding a number of private labels to its portfolio.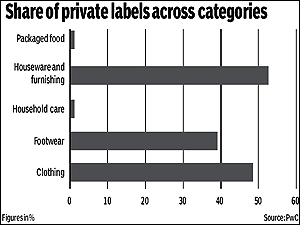 Purnendu Kumar, associate vice-president, Technopak Advisors, says that private labels saw a growth of 30% in the last one year. While expanding their private label ranges, retailers are trying to focus not only on offering cheaper versions of brands, but are using private labels as a strategic tool. Private labels enable retailers to fill in the product range and also differentiate themselves from other retailers. Since private labels offer better margins, the extra money allows retailers to fight off competition.
Organised retail players are aggressively pursuing the strategy of promoting sales of private labels by opening new stores, growing the formats and improving quality and general merchandise. In fact, a PwC report says that private labels currently constitute about 50% of the total organised apparel industry and 40% of the organised footwear industry. The report further says that over the last few years, private labels in the apparel sector have been growing at 12%, footwear labels at 14% and housewear and home furnishing labels at 20%.
Consumers prefer to stay with the leader in the time of uncertainty as they trust that the leader would take decisions in the best interest of consumers. Since we are a full range retailer with our private brands offering value to consumers, we saw good growth in our private brands during these times. Private labels contribute 20-30 % of the sales in categories where we are present, says Devendra Chawla, head, private brands, Pantaloon Retail of the Future Group.
Organised retailers are now getting their backend in place, which is helping them to focus on developing suppliers, product development, warehousing and supply chains. Moreover, retail players have slowly built the right scale required to launch more private labels at an effective cost. There is also a realisation that only private labels will help them in getting the extra margin as there is a limited margin enhancement possibility from the established product brands.
Organised retail companies are eating into the slice of established branded companies through their private labels. Vishal Retail, which does 80% of its business in the private labels category, says that there would be a cut-throat competition in the days ahead between organised retail and established branded companies in the country. We have eaten into their market pie and have created our own consumers. Private labels will ultimately surpass the sales of the best branded products, says Ambeek Khemka, group president, Vishal Retail Ltd.
Manmohan Agarwal, director of bigshoebazaar.com and former CEO of Vishal Retail, also says that private labels, which are owned, merchandised and sold by retailers themselves are definitely going to give a lot of competition to branded companies in the days ahead. The branded FMCG companies will not have the same growth rate as they are having at the present. They will definitely grow in volumes, but not at the same pace as of now.
The categories that could get affected more within FMCGs are homecare products where a number of key retailers are introducing their own brands be it in air fresheners, toilet cleaners or floor cleaners. Also, private labels are more popular in generic categories like rice and atta. But when it comes to foods or personal and beauty care products, consumers have been loyal to branded items.
One of the leading players in the FMCG space, Dabur India considers private labels a strong competitor and is closely monitoring their emergence. We treat them as competition like any other rival product in the market. No special strategies are being devised to counter the private label products in these categories, though, says V S Sitaram, chief operating officer, Dabur India.
According to an industry analyst, retailers like Pantaloons, Shoppers Stop, Reliance and Vishal Megamart are expanding their range of private label products from cosmetics, food apparel, healthcare products and furnishings to clothing to improve the profit margins of their stores.
Future Group is launching private labels across different categories. We are looking at doubling our private label business. Last month we launched breakfast cereals. Sometime back we launched detergents, says Mayur Toshniwal, president, retail operations (value formats), Future Group. There is a lot happening in the private label business. Over the last four months we launched several new products. He adds, We dont aspire to give tough competition to brands, but we want to increase the consumption of products in the FMCG sector and give an additional choice to the consumer.
Aditya Birla Retail, which runs More chain of supermarkets and hypermarkets in the country, is also ramping up its private labels business as an independent strategic business unit and profit centre, which may be spun off as a separate entity. The move by the company aims at meeting a management diktat of ensuring quicker profitability of the long-haul retail business.
In fact, about 20% sales from its More supermarkets and hypermarkets are from its private labels business. The company has also increased investments in R&D and supply chain centres to build the entity as an FMCG business to market the brands to other retailers and the general trade. The company operates in over 40 key categories and many of its brands like Feasters Noodles, 110% Dishwash Bar, Kitchens Promise Pickles and Fresh-ODent toothbrushes are quite popular.
This seems to be only the beginning. Experts say there are many more retailers who are likely to launch private label brands and the competition is likely to rise in the near future.