Coal prices disappoint, but power projects are happily on track
We maintain our Overweight rating on Tata Power with a target price of R123 (from 125 earlier) as we build in the lower coal prices, and consequently lower value for coal business, while increase value for Mundra as cost comes down.
We use a sum-of-the-parts (SOTP) methodology to value Tata Power, given the differing risk/reward profiles for its various businesses. Our target price implies a 1.8x FY14e PB (price-to-book) and 13.9x FY14e PE (price-to-earnings) compared to the current FY13e PB of 1.8x (times) and PE of 18.9x.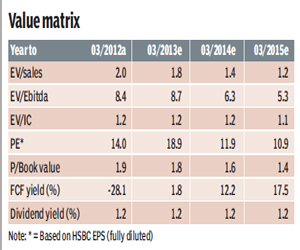 We also remove the volatile flag as the stock is no longer volatile. Under our research model, for stocks without a volatility indicator, the neutral band is 5 percentage points above and below the hurdle rate for Indian stocks of 11%. For Tata Power, this translates into a neutral band of 6-16% above the current share price. However, downside risks include non-acceptance of tariff hike by customers of Mundra, higher-than expected mining costs, a proposed export tax on coal imposed by the Indonesian government further increasing losses at Mundra, rupee depreciation, increased interest rates and unfavourable regulatory changes in India or Indonesia.
Q2 results disappoints
Tata power reported 23% year-on-year increase in revenue at R77 bn, marginally below our estimate, but a much smaller 9% growth at the Ebitda (earnings before interest, taxes, depreciation, and amortisation) level, which was 10% below our estimate. The main contributor was a disappointment in the coal business, which currently contributes 30% to the Ebit.
The reason was lower realisation of $78.4 per tonne on coal sales versus $84 per tonne last quarter. Coal volume sold at 15.45 million tonnes was 9% lower than our estimate though production at 19.38 million tonnes was much higher. Ebit margin of coal business was down to 14% from earlier 28%. The net profit was impacted by R2.5 bn of impairment charge booked by the company for the Mundra project.
Change in estimates
We reduce the realisation in coal business from $84 per tonne to $78 per tonne in line with the current prices as well as factor in higher port charges at Mundra and accordingly our Ebitda declines by 7% for FY13 and 1-2% for FY14. However the reduction in the sale price of coal is likely to benefit the Mundra project as the input cost is expected to come down. The port charges for coal handling per unit are likely to come down as the Mundra project gets fully commissioned in FY14, which at present is paying fixed charges irrespective of the lower volumes. Hence, our net profit estimates decline by 14% for FY13 and 0-1% for FY14-15e.
Mundra execution progressing well
The company announced the completion of unit 3 of the Mundra project, and 2.4 mw of the capacity is now operational at Mundra. At present the company is expected to make a loss of R5.7 bn on the Mundra project.
However, as the hearing process on the petition for tariff relief is underway and the first hearing is scheduled for December 4, 2012, we are currently factoring a relief of 25 paise per unit on the Mundra project. In addition the other major project of the company, the 1,050 mw Maithon project, is now operational and the issue of its coal handling is sorted out.
Thus, the overall performance of the company's power business looks good. The power business reported a revenue of R55 bn (up 40% y-o-y growth) and Ebit of R7 bn (up 55% y-o-y growth).
HSBC