Power Grid?s $1.2 bn FPO (follow-on public offer) is expected to open this month.
Power Grid Corporation of India Ltd
s $1.2 bn FPO (follow-on public offer) is expected to open this month. The issue size is 17% of equity: 13% fresh issue (602m shares) and 4% government divestment (185m shares).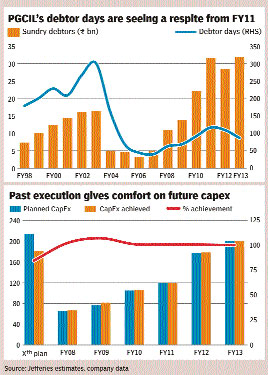 We believe over the next 12 months, CERC regulated equity change, debtor days and capacity expansion will drive stock performance. We have given a historical and futuristic perspective on these below.
CERC-regulated equity return; payment by SEBs: Power Grid (PGCIL) currently earns a regulated post-tax return of 15.5%, with efficiency linked incentives. This was raised from 14% in the five-year block of FY05-09, to 15.5% for FY10-14. The CERC (Central Electricity Regulatory Commission) approach paper for the FY15-19 block gives feelers on the need to promote power investment in India. Our base case assumes the return will be maintained. A decision is expected in Jan. 2014. The 3x rise in PGCILs debtor days from 40 in FY07 to 116 in FY11 brought back memories of 2003 when debtor days touched 300. A gradual reduction during FY11-13, especially with SEBs raising tariffs since FY12, gives comfort on monetisation.
Capacity expansion delivery; open access transmission charges: PGCILs earnings growth is capex driven. It achieved 85% of its planned capex (capital expenditures) in the Plan-X and met its Plan-XI targets. This gives confidence on its planned execution. In addition to the regulated return, PGCIL retained 25% of the inter-state transmission charges it collected from users on behalf of long-term customers. A CERC amendment indicates this 25% should not be retained. PGCIL is currently disputing this order. However, we have reduced our profit estimates by 3-5% for FY14e-16e, factoring this in.
Future competition: It is likely that post Plan-XII, PGCIL may have to compete for meaningful incremental projects, as competitive bidding has been introduced. Where domestic competition has impacted Bhel, there is a key difference: PGCIL owns its transmission network lifelong and will earn a base profit level even if it does not win incremental projects.
Valuation/risks: Factoring in the 3-5% lower estimates and an assumed FPO price of R80 vs.R90 earlier, we marginally revise our PT (price target) to R130 (1.8x FY15e P/B, 10% discount to four-year mean) from R135 . Since the IPO, the stock has traded in the P/B (price-to-book ratio) range of 1.3-4.8x and currently it is at its lower end of 1.3x. Current price levels factor in negligible terminal growth at 13% regulated ROE (return of equity); R80-90 implies P/Bprice-to-bookof 1.1-1.2x FY15e). Downside risk: (i) Cut in FY15-19 regulated ROE.