Though a deficient monsoon should logically mean lower production of foodgrains as well as fruits and vegetables, and hence higher inflation, history suggests this is not necessarily true, reports fe Bureau in New Delhi.
What happens to both production as well as inflation depends upon a combination of circumstances. If years of deficient rain the Met has forecast a 33% probability of a monsoon rain of under 90% of the long period average this year are preceded by a year of good rainfall, the impact is more muted. Last year, for instance, was a good year, and reservoir levels are 57% above the 10-year average. Given the greatest impact of the poor monsoon is expected in northwest India a 15% shortfall is expected here and this area is highly irrigated, the impact on production will be less.
The year 2002 saw an 80.8% monsoon level, on top of a fairly poor 92.2% rainfall level in 2001. As a result, foodgrain production in the year fell a whopping 18%.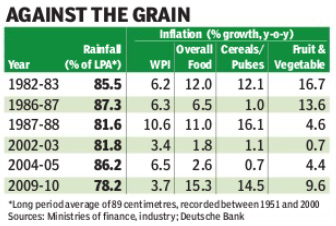 The year 2009, by contrast, had an even worse rainfall level of 78.2%, but this was preceded by a healthy 98.3% monsoon precipitation the previous year as a result, foodgrain production in
2009 fell by just 7%. Quite the same thing happened in 2004, another poor monsoon year with a precipitation level of just 86.2%.
The price impact, in turn, is not just dependent upon the rainfall, a lot depends on how minimum support prices (MSP) are raised. In 2002, despite the dramatic fall in production, inflation levels were subdued, not just in overall terms, but also for foodgrains as well as fruits and vegetables. In 2009, however, while food production fell 7%, inflation levels were much higher. The reason is that MSP hikes in 2002 were muted (1.6% for wheat and nothing for rice) versus hefty MSP hikes in 2009 (11.8% for rice and 8% for wheat).