Whether it is Bharatiya Janata Party's Narendra Modi, Congress' Rahul Gandhi, or any other leader becoming PM after the Lok Sabha elections, here is what it will take to get the Indian economy moving, as per CII.
Boosting economic growth in India requires immediate introduction of Goods and Services Tax, containing subsidies, monetary easing and fast-tracking of stalled projects, CII said today.
In its 100-day action agenda for the new government, the industry body said a strong inter-ministerial coordination group is required to resolve sticky issues like the "mining conundrum" and "raw material securitisation" for sectors like steel.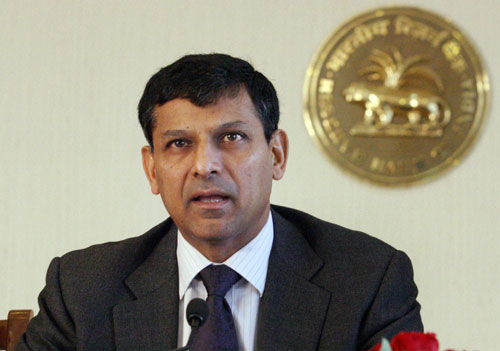 Also see: Monetary policy review: Guv Raghuram Rajan keeps RBI rates unchanged
RBI Governor Raghuram Rajan during the announcement of RBI monetary policy at the RBI Headquarters in Mumbai(PTI)
"Economic growth and investments have stagnated. We require rapid economic growth for job creation. We will share the agenda with the new government and discuss each point with them. Implementation of GST will boost GDP by 1.5-2 per cent," CII's new President Ajay Shriram told reporters here.
He said India can achieve GDP growth rate of over 6 per cent, provided systemic reforms are carried out quickly by the new government.
However, Shriram added that in case of a fractured mandate in the ensuing general elections, "there would be loss of investor confidence and jobs would be destroyed in organised sector with no signs of economic reforms".
A strong economic revival package and right implementation of policies by the new government can help create as many as 150 million jobs in the next 10 years, he said.
"Industry is looking for top policy steps such as the introduction of GST, easing of interest rates by 100 bps, keeping subsidies at 1.7 per cent of GDP and restructuring of labour laws to promote mass manufacturing," Shriram said, adding that a market- friendly environment is required to promote investments, business and entrepreneurship.
Further, he stressed on timely implementation of the DMIC project, setting up of state level mechanisms similar to project monitoring group and an institutional mechanism to renegotiate the terms of concession in PPP contracts to salvage stranded investments.
"There is also an urgent need to expand e-governance and technology based initiatives to simplify processes and online monitoring of application forms besides time-bound approvals by introducing deemed approvals in case of delays beyond prescribed limit," Shriram said.
He asked for restructuring of labour laws, including introduction of fixed term employment for industry to hire manpower on short term assignments.
On the Congress party's promise to extend job reservations to the private sector, he said: "We feel having reservation in the private sector is not a desirable direction. We have focused as an association very strongly on affirmative action". CII will discuss the matter with the party, he added.
Shriram said that during the year CII will focus on 10 areas - education, skills, economic growth, manufacturing, investments, ease of doing business, export competitiveness, legal and regulatory architecture, labour law reforms and entrepreneurship.
The chamber will also undertake a study on gas pricing and its impact on end-users, macro-economic indicators and the investment environment, he said, adding that there is also a need to revive primary market and strengthen secondary market.
To boost the industrial sector growth, he called for quick implementation of the National Manufacturing Policy.
Shriram also said: "There is a need to revisit free trade agreements. Government should also fast-track the process of public sector disinvestment and create a policy framework for monetising unutilised assets and land resources of the government and PSUs."
On exports, he said there is a need to extend credit at affordable rates. He also stressed upon the need for extension of credit lines to tap new markets as well as reducing the transaction costs.
Shriram also called for labour law reforms and asked the government to provide tax benefits to private venture capitalists so as to increase entrepreneurship.
To improve the ease of doing business in India, CII will present to the government best practices in the states which can be emulated in the areas of land acquisition, contract enforcement and taxation, he added.
To boost investment in the energy sector, he said the government should go for a unified licensing policy for all hydrocarbons and work towards effective implementation of market-driven pricing in petroleum sector and implement market-based gas pricing at arms length principle.
On the issue of loan defaulters, the new CII President said: "For wilful defaulters, the government is talking about separate rules but in general, if economic activity goes up, there will not be any defaulters."
On the issue of dealing with crony capitalism, he said that by ensuring clear, transparent and open processes and systems, one can deal with the matter.
"The issue is how to ensure that processes, systems and rules are clear, transparent and open so that there is no ambiguity," Shriram added.