The US generics segment remains the key earnings growth driver. Dr Reddy?s, Sun Pharma and Lupin have been beneficiaries of high-value launches in the recent past.
We expect our pharmaceutical industry coverage universe (ex-hospitals) stocks to record a consolidated revenue growth of 20.7% and Ebitda (earnings before interest, taxes, depreciation and amortisation) growth of 36% year-on-year in Q3FY14F (forecast).
The domestic formulation market has been impacted by the implementation of the new pricing policy. In this quarter, the full impact of the price cuts will be visible. In addition, the dispute with trade regarding margins on price-controlled products remains, though our interaction with industry suggests the product flow in the channel has improved in the recent past. We expect Glaxo to be most adversely impacted on this count.
The US generics segment remains the key earnings growth driver. Dr Reddys, Sun Pharma and Lupin have been beneficiaries of high-value launches in the recent past. The currency environment remained favourable with reduced volatility during the quarter. We therefore expect very limited MTM (marked-to-market) gains/losses during the quarter. Adjusted for large MTM losses of Ranbaxy and the licensing income of Glenmark, we expect our pharmaceutical coverage universe to record a net profit growth of 47.5% y-o-y and 8.4% q-o-q.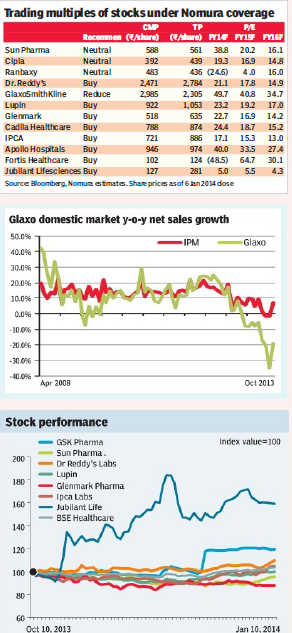 We expect consensus earnings upgrade for Sun Pharmaceuticals Industries, Dr Reddys Laboratories, Lupin, Glenmark, Ipca, and Jubilant post-results, while we believe that significant consensus earnings cuts are likely for Glaxo. Given the upside risk to earnings and valuations, our top picks are Lupin, Ipca, Glenmark, and Jubilant.
Sun Pharma: We expect 70% earnings increase y-y driven by Prandin, Doxil exclusivity, market share gain in Stalevo and price increases in Taro and URL. We expect quarter-on-quarter performance at Taro and URL to be stable.
Dr Reddys: Full quarter impact of exclusivity of Vidaza, Dacogen is the key contributor to our forecast 58% earnings growth y-o-y.
Cipla: Domestic business growth is likely to fare better than peers. Increased investments in overheads limit margin expansion. We project 8% earnings growth y-o-y.
Ranbaxy: The full quarter impact of price cuts in India will have an adverse impact on margins. However, we expect q-o-q improvement in Ebitda margin on lower overhead expenses and higher revenues in the US on back of Absorica and Lipitor market share gain.
Lupin: US launch momentum is strong. The launch of Zymaxid, Trizivir, Cymbalta, Aciphex and Yasmin should contribute to growth q-o-q. Our y-o-y earnings growth forecast is relatively low at 29% due to high base of the US brand and slower growth in India and Japan.
Glaxo: We expect weak growth and margin contraction due to the implementation of the new pricing policy in India and INRs depreciation.
Cadila: The impact of the pricing policy in India and lack of big launches in the US should put pressure on margins y-o-y.
Glenmark: We expect greater traction in the ROW (rest of world) business and improvement in Ebitda margins. Ex-licensing income Ebitda and earnings growth is at 24% and 3% y-o-y, respectively, on our estimates. Earnings growth is subdued due to higher depreciation.
Ipca: We expect growth to pick up in India formulations and institutional sales q-o-q and expect 52% increase in earnings y-o-y.
Jubilant Lifesciences: We see q-o-q improvement on the better pricing environment in the ingredient and generic business. We project 13% Ebitda increase q-o-q.
Apollo Hospitals: We expect revenue growth to accelerate to 17% y-y as bed capacities increase. However start-up losses will likely result in modest 9.6% earnings growth y-y.
Fortis Healthcare: With divestment of Quality Health, contribution of international business will drop to 14% from 53% in the year ago period, according to our estimates. We expect some moderation in margins q-o-q due to weak diagnostic business and start up losses.