With the growth shown by e-commerce companies, it is not surprising that they are attracting private equity investments, which are getting bigger by the year. Consider this: private equity investments in e-commerce companies so far this calender year have far exceed investments in the whole of 2013.
Private equity investors, along with strategic investors, have put in $791.45 million in e-commerce companies so far in 2014, which constitutes nearly 21% of the total $3.7-billion PE investments made in India during the same period.
This is way higher than the $715.28-million investments made by PE players in e-commerce firms in 2013, which constituted around 8% of the total PE investments of $10.4 billion in the year.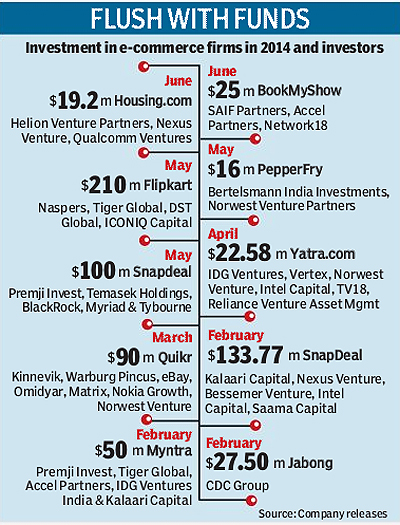 So far this year, at least 18 deals have been reported, with global investors putting money in online portals offering sales and services related to travel bookings, retail, grocery, fashion, classifieds and so on. Tiger Global, Norwest Venture Partners, Accel Partners, Matrix Partners, Kalaari Capital, SAIF Partners and Nexus Venture Partners have been among the most active PE/VC investors in e-commerce companies lately.
Last week alone saw two relatively sizeable PE deals, with real estate search portal Housing.com announcing $19.2 million fund raising from venture capital firms led by Helion Venture Partners and Nexus Venture Partners; and online ticketing firm BookMyShow receiving $25 million funding from SAIF Partners, Accel Partners and Network18.
Raja Lahiri, partner, Grant Thornton India, says rising private equity investors interest in e-commerce firms seem to be fundamentally driven by rapid growth of internet in India. Also, the buying behaviour of the younger population has seen a dramatic change, as they find it convenient to transact online, he adds.
In the past five years, the number of internet users have grown by almost 3.5 times, aided by higher smartphone penetration, suggests recent data by Internet & Mobile Association of India (IAMAI).
Brokerage firm Morgan Stanley in its recent report said it expects data subscribers to grow at a CAGR (compound average growth rate) of 25%, from nearly 210 million to 519 million in the next four years. Also, with half of Indias total 1.2-billion population falling under the 25-year age bracket, consumer lifestyles have seen a drastic change.
Suvir Sujan, co-founder of Nexus Venture Partners, the firm which has partly funded investments in Housing.com and Snapdeal, says the internet has reached critical mass in India and many businesses will be created that leverage the internet for the power of its reach.
The next 10 years time is the internet decade for India and there will be millions of consumers who will experience e-commerce for the first time. Given the infrastructural challenges in India, e-commerce marketplaces like Snapdeal are a way to solve the problem of access of goods and services for consumers in smaller towns in India and for small and medium retailers to get access to a much wider set of consumers he adds.
Lahiri says though the overall market is growing rapidly, not every e-commerce company is getting money, with only a few established ones who are leaders in their respective segments seeing higher investor interest.
Though large established players continue to command premium, it seems justified given their strong growth prospects, adds Lahiri.
Sandeep Ladda, leader (technology) at Pricewaterhouse Coopers India, believes that the infusion of funds in the online services sub-sector will continue for the next couple of years, given that most companies are in the growth stage and are scaling up, and newer product lines such as baby products, food, niche apparel segments and pet products are now available online.
Global companies in the same line of business are investing in Indian companies, triggering speculation of potential acquisition in the medium to long term. With growing competition in the online space, inorganic growth is a possible way forward for global e-commerce players who are keen to establish their footprint in India, Ladda wrote in a quarterly update report on PE deals.