The current quarter (Q2CY14) has seen the highest number of exits in at least 10 quarters.
With equity markets on a roll, private equity (PE) exits through public market sales have hit multi-quarter highs as investors cash in on buoyant sentiments to partially or fully exit their investments. The current quarter (Q2CY14) has seen the highest number of exits in at least 10 quarters, even as the exit value via public market sales stands at nearly a six-quarter high.
There have been at least 16 PE exits through public market sales aggregating $489 million, with most delivering multifold returns to investors. Experts attribute the rise in exits to improved sentiment and the appreciation in the rupee witnessed during the quarter post the formation of the new government.
There has been a return of optimism in the market among general partners (GPs). With a decisive mandate for a new government, we have seen the exit environment improving significantly. Also, the recent rally in the public markets, coupled with some softening of the currency, bodes well for higher exit liquidity, said Madhur Singhal, a principal at Bain & Company.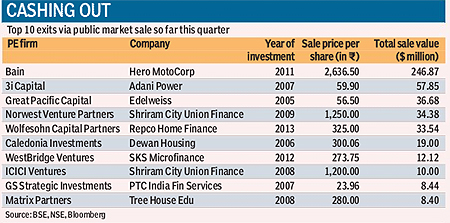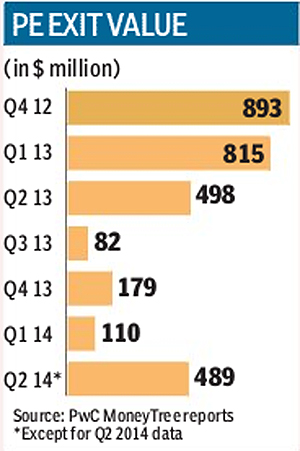 The current quarter has seen the benchmark Sensex hitting an all-time high of 25,584 (on June 10) and gaining nearly 13% till date since the start of April while the rupee too is trading at close to its four-quarter high after hitting a yearly high of 58.46 on May 22, 2014.
Westbridge Capital on Thursday sold a part stake in SKS Microfinance for the second time in the last two weeks to take back 4.5x returns on its seven-year-old investment made at an average cost of R61.18.
Earlier this month, Bain Capital was involved in the biggest PE exit in recent times by selling shares of Hero Motocorp worth $247 million slightly lower than the $301-million exit by TPG Capital from Shriram Transport Finance in May 2013.
Bain Capital sold a part of its stake in Hero MotoCorp to make a partial profit of $110 million or return of 1.81x in three years.
Raja Lahiri, partner, Grant Thornton India, says that the exit environment looked much better now than six months ago and, hence, some PE players were cashing in on the improved sentiment.
The April-June quarter also saw Norwest Venture Partners and ICICI Venture making partial exits from Shriram City Union with 3.97x and 3x returns, respectively. Wolfensohn Capital made 2.1X returns on the Repco Home Finance partial exit and Great Pacific Capital fully exited Edelweiss with over 2x returns. However, some exits were made with huge haircuts, including Blackstone which sold a part stake in its seven-year-old holding in Gokaldas Exports with negative 69.5% returns.
Varun Didwania, vice-president with Helix Investments Advisors, believes that the decision to exit the loss-making investments depends on individual fund strategy with some of them having the capability to wait while some may just take a hit. "There are investments of the 2007-08 vintage where the entry valuations were disproportionately high and those deals might still struggle to recover capital," said Singhal.
Lahiri believes that for infrastructure-related companies, the sector-specific challenges remain in place and it may take a while for them to revive growth. In case of such investments, PE investors have no option but to wait for turnaround in a company's performance to exit otherwise they will have to take a haircut, added Lahiri.
Looking ahead, experts believe that though the exit environment is likely to get better, the exit route through public market sales would remain restricted to better-performing companies. "Exits still remain a challenge for most of the investments made since 2008. For exits to happen in a sustainble manner and regularly, companies have to do well fundamentally, said Lahiri.
Didwania believes the exit route through public market sale is available to only a certain kind of company with certain size and that for many of the smaller and mediumfirms, the strategic or secondary sale still remains a viable option.