Oil and Natural Gas Corps overseas arm, ONGC Videsh (OVL), has started the process of issuing dual-currency senior unsecured notes in three tranches, sources confirmed to FE. The proposed issue will have five-year and 10-year dollar-denominated bonds and seven-year euro-denominated bonds.
Bankers in the know said the issue size is yet to be decided, but will be around the benchmark size for offshore bonds. In May last year, ONGC had raised $300 million through five-year bonds and $500 million through 10-year bonds.
On Monday, Bloomberg had reported an initial pricing guidance of 180 bps over the current US treasury note yield for the five-year bonds, 225 bps over the US treasury note for the 10-year bonds and 190 bps over the mid-swap rate for the euro-denominated bonds. However, sources added that spreads for the bonds might be priced about 15 bps lower.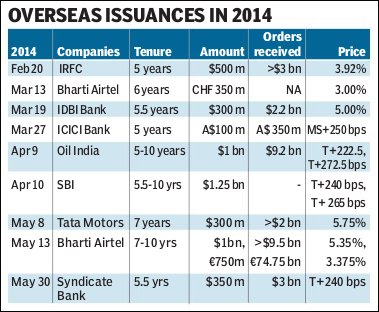 The proposed bond issue was rated BBB- by Standard and Poors. ONGC expects to primarily use the proceeds of the proposed notes to refinance existing bridge loans incurred to acquire a participating interest in a Mozambique entity, the agency said in a note.
Spreads on bond yields offshore have contracted to their lowest levels since 2007 as shown by ICICI Banks issue, which raised $250 million at 185 basis points over five-year US treasury. Market players also said that appetite for Indian paper abroad is high and expect issuances worth $15 billion.
So far in 2014, Bharti Airtel, through its Netherlands subsidiary, has had the biggest issuances till date. Bharti raised $1 billion in dollar-denominated bonds and 750 million euros in euro denominated bonds.