Street jitters over a blip in cigarette volumes are overdone
ITC Ltd valuation level builds in reasonable earnings growth: The
ITC
stock has corrected 5% since the Q2 results, which, in our view, is an overreaction to a small blip in cigarette volumes (3-4% decline) even though clean earnings growth was still robust and in line with consensus. In our view, ITC Ltd remains fully on track to deliver 17-18% cigarettes Ebit (earnings before interest and taxes) growth for the full year. While volume growth in cigarettes looks weak and volume impact will continue to fade, as we move into the second half, earnings growth expectations built into valuation are fairly modest. We see this weakness as a buying opportunity.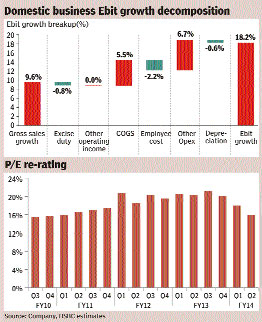 Strong earnings growth: ITC Q2FY14 top line growth of 9% was below consensus, (but only due to agri business, which had a disproportionate higher base last year due to wheat exports), while reported profit after tax growth of 21.5% was
5% ahead but had a benefit of R1.58 bn liability write-back in cigarette segment. Adjusted for that clean PAT was in-line.
The street was disappointed with the cigarette volumes decline. But we must point out that ITC has taken price increases quite aggressively and in a staggered mannermost notably a sharp price increase in Gold Flake regular segment for the second time.
History tells us that volume impact in the immediate quarter of price increases is most pronounced and it gradually fades away. Nonetheless, compared to its own history volume decline, it is still in low single digit despite the sharp increases in the last two years successively. But price hikes helped in 10% net revenue growth while margin expansion led to cigarette segment clean EBIT growth of 16%.
Q2FY14 results summary: Top-line growth of 9% y-o-y to R77.8 bn was 4.5% lower than consensus. But this was largely due to weakness in agri exports. Adjusting for this one-off, groups underlying revenue growth would have been 15.2%. Reported PAT growth of 21.5% y-o-y to R22.3 bn was 5.5% ahead of consensus. But clean PAT (adjusted for R1.5 bn liability write-back in cigarettes), was in line with consensus expectations. While the 3-4% decline in cigarette volumes was a disappointment, cigarette Ebit margin (on net revenues) expanded by 331bp y-o-y, reflecting the positive impact of price increases (19% average price hikes were taken in H1FY14).
In the cigarette segment, net sales and Ebit grew by 10% and 16% year-on-year, respectively. The volume declined in the range of 3-4%. In other FMCG business, net sales growth of 16% y-o-y was still impressive against a challenging macro back drop. According to ITC press release, branded packaged food business registered robust growth across various sub-categories. Ebit loss declined by 58% as margins improved by 115 basis points. We estimate that other FMCG Ebit contribution to the group will increase from -0.8% in FY13 to 4% in FY18e.
In the Hotels segment, net sales increased by 13.8% y-o-y but margins collapsed to 3.5%, reflecting ongoing adverse impact of tough macroeconomic conditions and increased room supplies in major Indian cities.
In Agribusiness, top-line declined by 12%, and it was much lower than our expectation. After adjusting for significantly high wheat exports in Q2FY13, segments underlying revenue growth was 8.5%. Top line decline was offset was 322bp margin expansion, which helped in 10% Ebit growth. Margin expansion was helped by favourable product mix and strong growth in leaf tobacco exports.
In the paperboard and paper segment, topline growth was 11% and it was helped by new capacity addition. But significant cost inflation, primarily in wood and coal costs, adversely impacted the segment margins which declined by 795bp y-o-y to 18.7%.
Revised estimates: We have marginally revised our estimates post-Q2FY14 results. We have cut our cigarette volume growth expectation to 2% in FY14e against flattish volume growth estimate earlier. We have cut revenues by 2% for FY14-16e. We have revised earnings by -0.3 % for FY14e, 0.5% for FY15e and 0.5% for FY16e.
Earnings growth to remain resilient: (i) for FY14, we expect volume decline of 2% but with a 19-20% price hike taken cigarette Ebit growth in the range of 17% is still quite realistic. (ii) Other FMCG, which grew by 16% in
the quarter and narrowed its Ebit losses toR127m in the Q2, is on track to become Ebit positive in FY14.
Valuation and Risks: ITC is now trading at FY15 PE (price to earnings multiple) of 24x, which builds in long-term growth earnings expectation of 9-10%, which is an easily surmountable hurdle. We maintain our TP (target price) of Rs 400 and OW (Overweight) rating. Resilient earnings growth in the successive years of sharp excise duty increases in our view will continue to aid the stock performance.