Overseas direct investment by Indian companies slipped to $1.57 billion in December from $2.28 billion the previous month, data from the Reserve Bank of India showed. Guarantees continued to dominate as the preferred route to invest in overseas companies with $1 billion being invested through this route.
Investment through equity was $383 million while investment through loans totalled $192 during the month, the data showed. The biggest investment was through a $145-million guarantee by Maharashtra Seamless to a subsidiary of Jindal Pipes in Singapore. The subsidiary would engage agricultural and mining operations.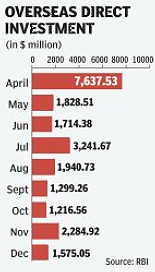 Other key investments were Mahindra & Mahindra's $140-million guarantee to a manufacturing unit in Mauritius, Tata Communications' $132-million guarantee to its overseas subsidiary and Shapoorji Pallonji & Co's $128-million investment in a joint venture in the UAE.
On the basis of region, US led among the most preferred country for investment with around 66 deals followed by Singapore with 66 deals. However, in terms of value, Mauritius saw the maximum financial commitments at $272 million. Both Singapore and Mauritius have been the most preferred destinations for financial investment so far in 2013-14. The biggest equity infusion commitment was of Bharti Airtel in its Mauritius subsidiary of $40 million followed by Tata Motors' $33-million investment in its joint venutre in Thailand.
The investment fell to $5.08 billion in the October-December from $6.48 billion in July-September. In the first nine months of 2013-14, overseas direct investment by Indian companies has totalled to $22.74 billion, similar to $22.62 raised during the corresponding period in 2012-13.