In short, the organised retail story has not had a happy beginning.
It has been a year since multi-brand retail was thrown open to overseas firms, but the government is still trying to convince foreign retailers to set up shop in the country. Meanwhile, domestic organised retailers are slowly trying to consolidate their position in the market. The attempt is to focus on cost-cutting and planning expansion in a more sensible way in the wake of muted growth projections. The biggest pain point remains the development of a back-end supply chain which would lower operational costs and bring in more efficiency.
In short, the organised retail story has not had a happy beginning.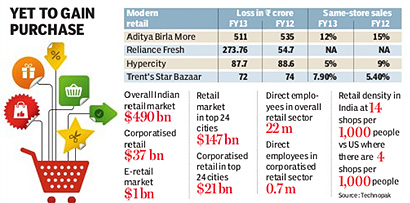 The cautious approach can be gauged from the fact that the top three listed retailers, Future Group, Trent and Shoppers Stop would add about 1.98 million square feet of total space this year, 22% lower than the space they added last year. During FY14, Kishore Biyanis Future Retail is to add 1.25 million square feet of space, lower than the 2 million square feet it added last year. The R400 crore the company plans to spend on expanding its formats is 33% lower than its investment levels last year.
Caution underlines the strategy of foreign retail firms too, albeit for different reasons. When the government opened its doors to foreign retailers last year on September 20, it was confident that global retail names like Wal-Mart, Carrefour and Tesco would waste no time to start operations here. However, the companies first waited for months for a host of clarifications from the government on a set of conditions that came with the approval of foreign direct investment in multi-brand retail and now ostensibly seem to be waiting for a suitable political climate.
Foreign retailers are in wait-and-watch mode not only due to lack of clarity from the government, but also due to a slowdown in emerging market economies, said Pinakiranjan Mishra, partner at consulting firm EY.
Things are relatively better in single-brand retail, where too the foreign investment cap was raised from 51% to 100% last year. The government has already cleared the Swedish furniture maker Ikeas R10,500-crore investment project. Others like garment brands Hennes & Mauritz and Brooks Brothers, Italian jewellery retailers Damiani and UK footwear label Pavers are set for an India entry soon.
On the domestic organised retail front, the positive was that Mukesh Ambanis Reliance Retail opened 184 stores during the 2012-13 fiscal and ended the year with a 42% higher turnover at R10,800 crore. This was the first time that Reliance Industries retail business crossed the R10,000-crore mark in turnover, making it number two amongst Indian retailers. Reliance Retail also broke even with earnings before depreciation, finance cost and tax of R78 crore.
The Future Group is now focusing on the profitability of stores and is planning to open stores at places only where it can ramp up faster, the company's joint managing director, Rakesh Biyani, maintains.
Retailers have started to look at their business model in a sensible way. They have realised that they should consolidate their operations first, before rolling out another set of stores, said Mohit Bahl, director, transaction services at KPMG.
"The market is still very uncertain with the rupee depreciating and reforms not taking place. So people are not too optimistic right now. We are working towards higher sales, but I would not bank upon higher growth for the next few quarters, Govind Shrikhande, managing director of Shoppers Stop, said recently.
Analysts continue to maintain a muted outlook on the growth of the sector. Fitch Ratings' India Ratings & Research, which has maintained a negative outlook on the retail sector for the second half of the year, sees higher inflation and marginal nominal wage growth acting as major deterrents for consumer spending. Margins pressures will continue to impact credit profile of retailers, the agency said in a recent report.
A Confederation of Indian Industry and the Boston Consulting Group report states, "Modern retail is struggling to drive efficiencies due to a nascent and largely unorganised supply chain.
India Ratings analyst Janhavi Prabhu expects estimates lower operating profitability, higher funding costs and working capital requirements to continue to exert pressure on operating cash flows this year.
Direct employment in the sector is still skewed towards informal employment. Nearly 97% of direct employees in the retail sector are hired through informal channels and this accounts for nearly 22 million people, while corporatised retail provides direct employment to only 0.7 million people, says Saloni Nangia, president, Technopak Advisors in a report released earlier this month.
Nangia added in her report that certain structural issues will hamper the growth of organised retail in the decade ahead. Share of corporatised brick-and-mortar retail in total merchandise retail will at best grow from the current levels of 7% to 17% by 2023... This retail channel will continue to face structural issues encompassing real estate, labour, sourcing and supply chain that will not allow the corporatised brick-and-mortar retail to grow beyond the stated estimate, the report said.