Private sector banks have been steadily growing their rural presence, an analysis of their FY14 annual reports shows.
On an average, rural areas have accounted for 50-65% of their new branches. Top private lenders ICICI Bank, Axis Bank, HDFC Bank and Yes Bank have been expanding their presence in unbanked and underbanked areas over the past five years.
Axis Bank, for example, has 18% of its branches in unbanked areas the highest among large private banks; ICICI Bank and HDFC Bank have 10-12%.
RBI has asked banks to prioritise opening of branches in unbanked rural centres (Tier-V and VI) over a three-year cycle of 2013-16. It has asked them to allocate at least 25% of the total number of new branches to these areas. Also, the central bank will give credit for the branches opened in excess of the 25% for a year, which would be carried forward for achieving the criteria in the next year.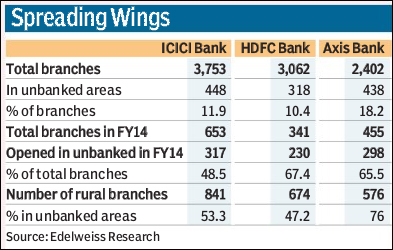 Over the past five years, private banks have made a focused beeline for rural areas, in line with the RBI mandate and also because of the growth opportunities arising due to increasing prosperity in the rural economy, Edelweiss research said in a recent note.
In FY14, Axis Bank opened 455 branches, 298 of which were in unbanked areas. We believe considerable potential for business exists at these centres and it also serves our objective of providing banking facilities to segments of our population who do not have access to these at present, the top management has said in the report. In FY14, the number of branches in unbanked areas for HDFC Bank stood at 230 (67% of new branches) and 317 (49%) for ICICI Bank.
The Edelweiss report said close to 75% of Axis Banks rural branches are in unbanked areas against 50% for ICICI Bank and HDFC Bank.
Rajiv Anand, president retail banking, Axis Bank, said: Semi-urban and rural markets are currently growing at a pace faster than the larger centres and, consequently, a large proportion of the recent branch expansion has been in these areas. Anand said the focus would be to equip the branches to become a single-point interface for all services with empowered staff and extensive reach through effective partners and agents.
ICICI Bank, on the other hand, wants to use technology to expand rural presence.
We believe technology as a great enabler for financial inclusion, which includes Branch on Wheels, a mobile-van-based branch that aims at providing banking services to a cluster of remote unbanked villages, said Sanjeev Mantri, senior GM, rural & inclusive banking, ICICI Bank.
In case of HDFC Bank, the rural banking model in place ensures cost-effectiveness through one-, two- or three-officer branches in remote locations, the bank said.
However, one of the main problems faced by a rural branch is the time it takes to break even due to unavailability of business. According to a banker in charge of retail operation of a private bank, the cost of running a rural branch is close to R4 lakh a month against R9 lakh in a tier-1 city. And though rural branches benefit from cheaper real estate rents, the cost of servicing and staffing balances out the benefits. Meanwhile, public sector banks are not far behind when it comes to rural expansion. In FY14, SBI opened 1,053 branches, 57% of which were in rural and semi-urban areas.
According to SKV Srinivasan, executive director, IDBI Bank, a minimum of three people are required to run a rural branch, whereas eight employees are required for a bank's operation in a tier-1 city. He said it doesnt always make business sense for banks to venture into rural areas as, in some places, Internet connectivity becomes a challenge.Since RBI mandates 25% of new branches in rural areas, banks have aggressively gone into rural areas, said Srinivasan.