The government?s last deadline of June 30, 2013, for the strict implementation of 5% blending has expired.
Large-scale use of ethanol as a minor additive to petrol is prevalent in 20 countries, including the US and Brazil, where it has been remarkably successful, but India is still a laggard. This is despite the fact that effective use of ethanol as automotive fuel would have not only curb Indias rising petroleum import bill but also boost the fortunes of its struggling sugar sector.
More than a decade after the government first mooted blending of ethanol with petrol in a 5:95 ratio and endorsed it at various stages, even half of that modest target is yet to be achieved. On their part, ethanol producers and oil-marketing companies (OMCs) are stuck in an unending blame game while policymakers have no cogent explanation for the failure.
It doesnt seem that the governments latest plan to double the blending limit to 10% would be realised soon unless the Centre cracks the whip on OMCs to start taking its decisions seriously.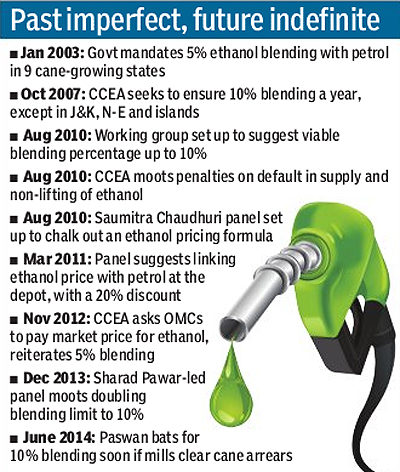 OMCs blame the lack of adequate supplies for their inability to implement the blending programme producers, meanwhile, say the slow and delayed action by OMCs in floating and finalising tenders, late payments and the low informal benchmark prices for purchases when competing industries are offering higher rates are to be blamed for this. The governments last deadline of June 30, 2013, for the strict implementation of 5% blending has expired.
A senior IOC official said: Every year, we float tenders; but we do not get ethanol to meet the entire demand. Next tender is expected in July.
Sugar mills, however, reject the OMCs allegations as misleading. They say the OMCs had set an internal price for ethanol at R44 per litre. This resulted in a rejection of as much as 37-crore litres of the bio-fuel offered by producers in the last tender floated in July 2013. Against the offered volume of 62-crore litres in the tender, the OMCs placed orders for only 25-crore litres, according to Indian Sugar Mills Association director-general Abinash Verma.
This is despite the decision of the Cabinet Committee on Economic Affairs (CCEA) in November 2012 that producers be offered market prices for ethanol supplies.
In fact, the OMCs have finalised only two tenders (along with one expression of interest in January this year) since the CCEAs latest decision in 2012 for strict implementation of the 5% mandatory blending programme.
Moreover, out of the 122-crore litres of supplies offered by producers under the two tenders and the EoI, OMCs finalised orders for roughly 68-crore litres and rejected the rest. Mills also complain that the OMCs shouldnt reject supply offer and until the price of ethanol exceeds that of petrols cost of production. They added that the sugar industry could supply adequate ethanol for implementing the blending programme. OMCs require roughly 105-crore litres of ethanol a year for implementing the 5% blending programme.
There are other issues involved in ethanol supplies as well. Producers say they are eligible for payment three weeks after supplying ethanol to the OMCs but sometimes the payment is delayed. In contrast, other bulk consumers, including makers of rectified spirit and potable alcohol, offer advance payment to the liquidity-starved sugar mills for ethanol supplies, improving their cash flow.
Moreover, since cane crushing is a seasonal activity and, therefore, the bulk of ethanol production is restricted to November-April. This makes swift floating and finalisation of tenders by OMCs, factoring in the cyclicality of production, crucial.
Since sugar mills are already stressed due to exorbitant cane prices, they cant afford to build ethanol inventories for a long time and incur costs while waiting for the finalisation of tenders by OMCs.