Under-recoveries on sale of petroleum products are expected to fall over 50% over the next two years because of efforts to move towards market-linked diesel prices and the expected decline in crude prices.
As a result, PAT at downstream companies may rise by Rs 3,300 crore to Rs 3,600 crore y-o-y in 2014-15 and by another Rs 700 crore to Rs 1,000 crore in 2015-16.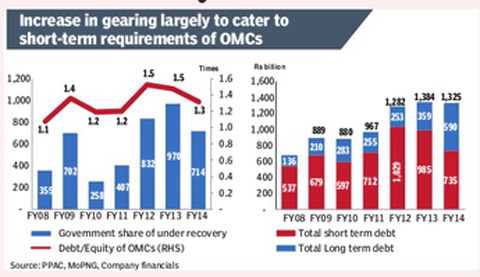 "This will have a significant positive impact on both upstream and downstream public sector oil companies," said ratings agency Crisil. "Upstream companies, will see a sharper improvement of Rs 10,500 crore to Rs 12,000 crore year on year in PAT in 2014-15 and a further improvement of Rs 7,000 crore to Rs 7,500 crore in 2015-16.