Former NSEL CEO and MD, Anjani Sinha after being arrested by the Economic Offences Wing in Mumbai. (PTI)
The settlement guarantee fund (SGF) of the
National Spot Exchange (NSEL)
was frequently misused to fulfil the payment obligations of defaulting members and also for the exchanges own business activities, reveals the forensic report prepared by Grant Thornton.
The audit has also found that since April 2012, there was a persistent mismatch between the actual balance in the SGF and that reported in the books of accounts of the exchange. NSEL is in the midst of a Rs 5,600-crore settlement crisis and has failed to make good on its dues to investors due to the lack of underlying commodities and inadequate funds in the SGF.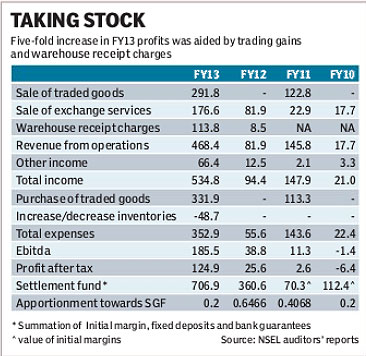 According to the audit firm, it has found evidence, including emails, that client monies/settlement fund was used regularly for fulfilling the obligations of defaulting members.
Further, NSEL utilised client monies/settlement fund for its own business purposes on a regular basis. For example, on March 28, 2013, Rs 236.50 crore was withdrawn from the settlement fund in order to fund NSELs own business overdraft account, says the report.
NSEL utilised Rs 236.50 crore from the Initial Margin money account to repay an HDFC Bank overdraft facility. The Initial Margin account reflects the margin money deposits with NSEL, which invested this money in either fixed deposits or liquid funds.
This is in sharp contrast to section 8.6.2 of the bye-laws of NSEL, which states that margin deposits received by clearing members from their constituent members and clients in any forms shall be accounted for and maintained separately in segregated accounts and shall be used solely for the benefit of the respective constituent members and client position.
The findings of the audit firm also partly explains the sudden fall in the SGF from over Rs 800 crore to a paltry Rs 60 crore during the first few days after the settlement crisis became public on July 31. Further, the massive fall in the SGF was without any corresponding reduction in the net outstanding amount.
According to the report, there was a running deficit in the client monies/settlement fund balance from April 2012 to June 2013 with the finance team of Financial Technologies India Ltd (FTIL) highlighting this as an area of concern on several occasions.
Our review of the utilisation of the settlement fund reflects that while the books of accounts reflected the balance in the settlement fund, the actual cash as per the bank statements was much lower, says the report, adding that the analysis suggests that the deficit was depleted on account of meeting the exchange obligation for the defaulting members (and) meeting the financial obligations of the other business obligations.