Tina Ambani said she does not have 'any knowledge' about these firms.
Tina Ambani today appeared as a prosecution witness in the 2G spectrum case and told a special court that she had "no role" in the affairs of husband Anil Ambani's Reliance ADAG. While her testimony did not raise much dust inside courtroom, outside there was a melee with her raging securitymen turning on gathered mediamen - reportedly, Tina came to court with a number of 'bouncers' who turned violent in an effort to prevent photographs from being taken or questions being asked.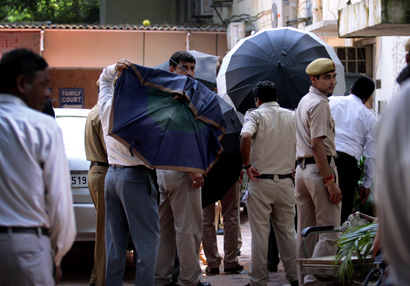 (For photo captions go to end of story: Express photos by Praveen Khanna)
One day after her husband and Reliance ADAG Chairman Anil Ambani's deposition as a CBI witness, she told the court that she has never been associated with any firm of Reliance ADAG.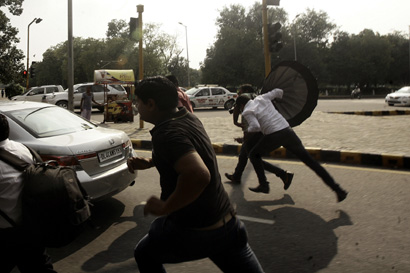 Tina told Special CBI Judge O P Saini: "I have no role in Reliance ADAG as I am a housewife, run a hospital.... I have never been associated with any Reliance ADAG company".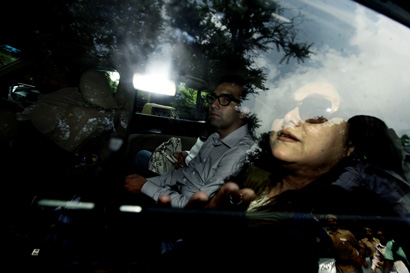 55-year-old Tina Ambani was shown documents of various firms said to be associated with Reliance ADAG, including Zebra Consultant Pvt Ltd, Swan Consultant Pvt Ltd.
She, however, said she does not have "any knowledge" about these firms.
During her examination-in-chief by CBI prosecutor K K Goel, she was shown various documents related to the case and she identified her signatures on them.
When she was asked to identify the signatures of Anil Ambani on some of the documents, defence counsel objected to it saying when the Reliance ADAG chairman had already identified his signatures then why was she being asked to identify them.
Senior advocate Harish Salve said that it seems that CBI is "doubting" Anil Ambani's signatures.
"They bring a witness and do not trust his/her memory. What is this," Salve said, adding, "If he has appeared and has identified his signature then why are they showing her (Tina) his signatures. Are they doubting his (Anil Ambani's) signature."
To this, the judge told Salve, "I agree with you."
Yesterday, Anil Ambani had deposed as a CBI witness in the case during which he resiled from a statement made during the probe and "did not support" CBI's case.
In his four-hour long deposition, he had denied that Swan Telecom was a front company of his group RADAG for securing the precious radiowaves.
Since Anil Ambani had not supported CBI's case, the agency decided not to drop Tina Ambani as prosecution witness saying he "has not supported the prosecution case" requiring her to stand in the witness box.
(Photo captions)
1. Private bouncers and Delhi police cops try to hide Tina Ambani while appearing as a prosecution witness in 2G spectrum case at Patiala House court in New Delhi on Friday. Express Photo by Praveen Khanna
2. Private bouncers stop lensmen from taking pictures of Tina Ambani, after she leaves from Patiala House Court. Express Photo by Praveen Khanna
3. Tina Ambani leaving in her car after appearing as a prosecution witness in 2G spectrum case. Express Photo by Praveen Khanna