New rules working, but banks need more time to fix bad loans
The Reserve Bank of India (RBI) may soon change the guidelines for dealing with Special Mention Accounts (SMA), making it mandatory for banks to set up joint lenders forums (JLFs) as soon as a borrower delays payments beyond 30 days. Bankers in the know said they were expecting revised rules soon, adding the idea was aimed at giving banks more time to come up with action plans to deal with stressed accounts.
Once interest payments are delayed beyond 90 days, the account turns into a non-performing asset (NPA). The central banks wants lenders to spot trouble early on so as to be able to contain NPAs. Forming a JLF earlier might prompt borrowers to become more disciplined, bankers believe.
Lenders, however, feel the time given is too short to to do justice to the case and come up with a suitable corrective action plan (CAP). As of now, we form a JLF if repayments are delayed for 60 days or more. As such, we have only 30 more days within which to form the JLF, take a decision on what is to be done. Also, corrective action cannot be taken before a viability study is conducted. This is too short a timeline for us to function, a public sector banker told The Financial Express.
Since April this year, when the new guidelines came into force, close to 40 cases, each with loan exposure of Rs 100 crore and above, have been discussed. A few have slipped into the NPA category and will probably have to be restructured, a banker with a leading PSU bank said.
As part of the regulator's guidelines to manage stressed assets, banks are required devise a CAP within 30 days of the first JLF meeting and decide on whether they want to restructure the account or move to recover their loans.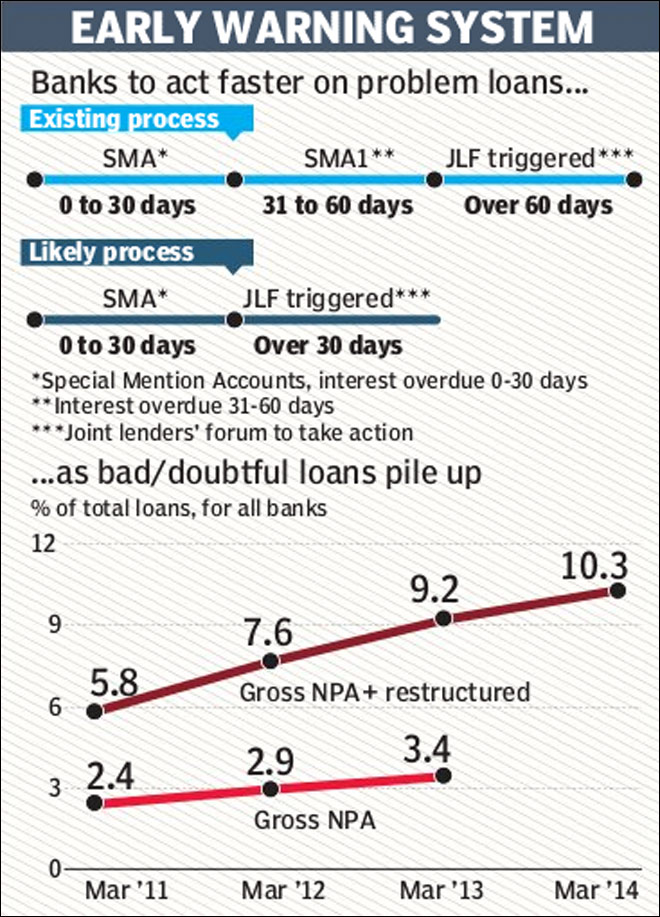 A restructuring would require a techno-economic viability (TEV) report to be given to the corporate debt restructuring (CDR) cell. If you are rushing to do a TEV report, the quality will be poor, another senior banker at a large public sector bank pointed out. He also highlighted the fact that not all banks have board meetings often enough to be able to discuss the cases.
Sources told FE the Indian Banks' Association had already sounded out the RBI requesting the regulator to review the timelines. Typically, borrowers tend to pay up on the 89th day to avoid the NPA tag.
With JLFs in action, customers have started paying up on the 59th day, a banker said. If the JLF formation is now made mandatory after the 30th day, then the borrowers are forced to repay even earlier. This may cause a lot of financial stress for them, which may result in loan defaults later, the banker said.
The SMA norms make it very difficult for banks to delay decision-making since they would need to make accelerated provisions for such accounts.