Samsung has pre-empted Apple Inc. September launch with its Galaxy Note 3. Will it be a mortal blow? (Samsung)
Samsung Galaxy Note 3, priced approximately at $860, was unveiled Wednesday and is all set to give yet another body blow to the iconic Apple Inc. While the reaction from the public is still filtering in, US company's iPhone 5, expected to be launched on September 11, will certainly have quite some competition. Here are some comparisons with old and upcoming models.
Sony Xperia Z1 unveiled with massive 20.7 MP camera and add-on lenses, set to take on Nokia, Samsung
The redesigned Samsung Galaxy Note 3's S Pen is tough to use. It is small and thin, making it hard to grip. Not surprisingly, the button on the stylus was quite small, too. You end up spinning the pen around every time you need to click it. The phone and tablet is very geared toward the pen, rather than pinching and swiping with your fingers as with other phones such as Apple Inc.'s iPhone and even Samsung's flagship Galaxy S4.
Samsung unveils Galaxy Gear smartwatch to power Galaxy Note sales
The phone's screen is crisp as was clear from watching several YouTube videos and a preview for 'Iron Man 3'. The bigger screen makes watching video a joy - movies can be watched on on Samsung Galaxy Note 3 instead of a tablet. The new phone's screen resolution is far better on the Note 3 - at 386 pixels per inch rather than 264 on the Note 2. (By comparison, the iPhone 5 is at 326 pixels per inch.)
'Apple Inc.invites media to Beijing September 11 event'
Samsung Galaxy Note 3 phone's 13 megapixel camera took clear shots, but it was slower than iPhone 4S, the model from 2011. A processing alert pops up for a second while a photo is saving.
To buy or not, that is the question. Suggestion: If you're not loaded, wait till Apple Inc. unveils its iPhone 5 (both iPhone 5C and iPhone 5S to be unveiled on September 11) and then take the plunge.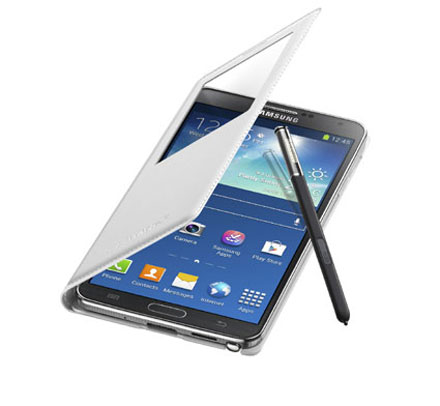 Samsung has pre-empted Apple Inc. September launch with its Galaxy Note 3. Will it be a mortal blow
With inputs from AP