Nokia XL, a five-inch phone, is priced at ?109.
They look like the Nokia Asha devices, but are larger and more powerful. This is the new Nokia X family range of handsets launched at the Mobile World Congress in Barcelona on Monday. but the biggest feature of these affordable devices wont be their size, but their ability to run Android apps. Now, that is big, coming from a company that is now onwned by Microsoft.
The Nokia X, X+ and XL are priced between the existing Asha and Lumia lines, at 89, 99 and 109 respectively, and will appeal to the budget users who can afford a bit more than the Asha and are willing to pay for it. The Nokia X will be available in India and a bunch of countries soon, while the other two models are expected in the second quarter of this year.
The Nokia X will be available in India soon The Nokia X will be available in India soon
The X and X+ both have 4-inch screens, while the XL, as the name implies, will have a larger 5-inch screen. All three will carry forward the bright colour language that sets apart all Nokia devices now. They will also have a tile-based home screen like in Windows Phones. They will also bring back a redesigned version of the Fastlane notifications centre, the second home screen that is very popular in the latest Asha devices.
Full specs below: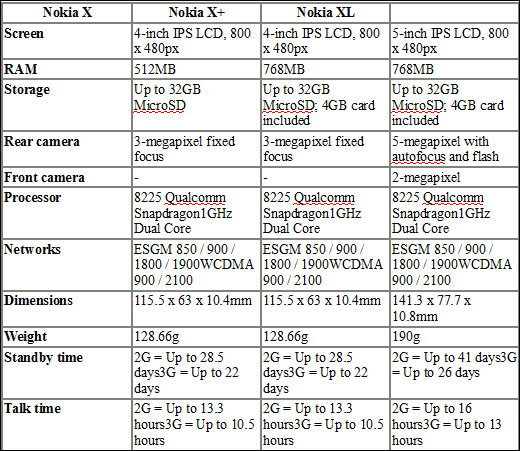 On the software side, the devices will have a HERE Maps with turn-by-turn navigation, Nokia MixRadio for free streaming music, 7GB free cloud storage on Microsoft OneDrive and Skype. Nokia has also tied up with Viber to provide the latest version of the app on these devices.
All three devices are powered by a Qualcomm Snapdragon Dual Core processors and are Dual SIM. A range of third-party apps comes preinstalled, including BBM, Plants vs. Zombies 2, Viber, Vine and Twitter.