Going by Reserve Bank of India governor Raghuram Rajans tone on Tuesday, a cut in the repo rate that would encourage banks to drop their loan rates to industry and individuals seems a long way off, possibly closer to March 2015. As expected, the RBI left the key policy rate unchanged at 8% but unlike in early June when it sounded a tad doveish, the stance on Tuesday seemed a shade more neutral. Rajan emphasised how critical it was that prices rose at a lower pace over the medium term, adding that if inflation did trend lower, there would be room to cut rates. The RBI will in no way hold rates higher than necessary but lets fight the anti-inflation fight once and lets win, Rajan told a press conference.
While the central bank says there could be upside risks to the CPI inflation target of 8% by 2015, even if these appear more balanced now, it believes an 8% number is likely. However, what could hold back the central bank from cutting rates in the next six months are the risks to the target of 6% by January 2016, which it says might surface, necessitating a heightened state of preparedness.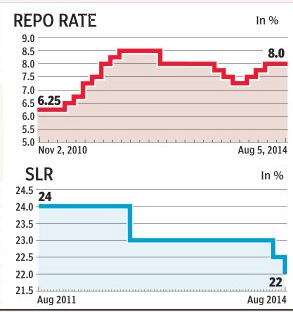 The RBIs determination to tame inflation appears to be all-consuming, overlooking the slump in the economy and the fact that the real GDP growth forecast of 5.5% in the current year might be missed.
However, it took steps to ensure banks have enough to lend and on Tuesday trimmed the statutory liquidity ratio (SLR) by 50 bps to 22%, freeing up about R40,000 crore which, Rajan said, could come in handy once demand for credit picked up. The idea is to enhance the supply side without giving too much of a fillip to demand to create inflation, he explained. Given the absence of lending opportunities, however, the money could stay parked in gilts the system SLR is estimated at 26% or more.
The other reason Rajan might be constrained from dropping rates, according to Frederic Neuman, co-head of Asian Economic Research, HSBC, is the turning interest rate cycle in the US. A sharp recovery supported by a boost in consumption demand would stoke inflation given the sluggish supply response in the economy arising from structural constraints, Neuman wrote, adding that the room to cut rates is further limited with the US Federal Reserve expected to raise policy rates sooner than expected.
The RBI governor is confident India will not feel the long-term effects of a rise in interest rates in the US and the consequent revisiting by investors of allocations. The initial volatility apart, there should be no longer-term effects given whats happening in India relative to elsewhere, Rajan said, pointing out that the benefits of a stable government in the context of the external situation should not be underestimated.