Surprisingly good resilience in cigaratte volume despite steep price hikes
We believe Q2FY13 results highlight the strength of ITCs cigarette brands. We estimate volume was flat year-on-year, but mix improvement and price increases helped revenue to grow 14% and Ebit (earnings before interest and taxes) to rise 20.3% y-o-y. Margins in the cigarette business expanded by 90bp y-o-y (versus our estimate of 70bp). We expect volume growth to improve in H2FY13e as: (i) consumers absorb price increases over time; and (ii) low-end consumers move into the micro filter segment (sub-65mm).
Q2 FY13 revenue up 19.6%, Ebitda up 24%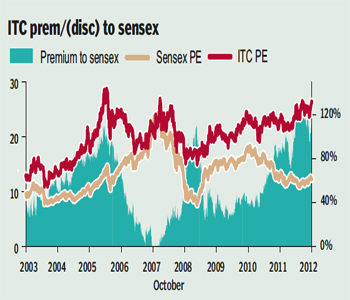 Net sales grew 19.6% y-o-y and Ebitda (earnings before interest, taxes, depreciation, and amortisation) margin expanded 125bp, aided by the cigarette division and the agri-business. Ebitda grew 24% y-o-y to R26.1 bn. PBT rose 20.1% and PAT 21.3% y-o-y to R18.4 bn. Overall revenue growth of 19.6% was driven by cigarettes (+14% y-o-y), agri (+41.1%) and FMCG (+26.4% y-o-y).
Hotels impacted by macro; agri, paperboard and staples did well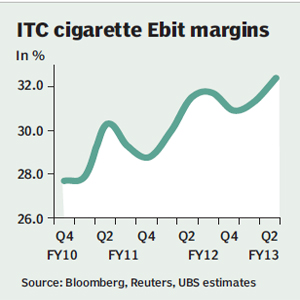 While the agri and the paperboard businesses posted 41%/6% revenue growth, hotel revenue grew only 3%. Margin in the hotels business dipped to 7% from 21% in Q2 FY12. Losses in the consumer staples business fell further to R303m vs. R559m in Q2FY12 and R388m in Q1FY13. We expect the consumer staples business to breakeven in Q4FY13e.
Cigarette division
ITCs Q2FY13 net cigarette revenue grew 14%. We believe mix improvement and price increases helped revenue growth beat our estimate. We were surprised with the resilience in volume, despite the steep price hikes. Ebit margin for cigarettes expanded 90bp y-o-y to 32.4% in Q2FY13.
Consumer division
The consumer staples business recorded revenue growth of 26% y-o-y in Q2FY13. This growth was aided by a mix improvement in the business. Sunfeast Yippee! Noodles and Bingo continued to help ITC improve its consumer franchise. ITC is continuing to invest in manufacturing and distribution infrastructure. ITC reduced losses at its consumer division to R303m in Q2FY13 from R559m in Q2FY12. We expect the consumer business to breakeven by Q4FY13e.
Hotel business
The business continued to face macro headwinds. While revenue grew 2.7% in Q2FY13, margin fell to 7.1% from 20.6% in Q2FY12. During the quarter, ITC unveiled ITC Grand Chola in the super premium segment; we estimate pre-operating expenses at R150m, means the underlying profitability of the hotels business was 14% in Ebit margin terms despite the macro headwind.
Paperboard business
Revenue grew 6% y-o-y, primarily from mix improvements and ASP (average selling price) increases. Paperboard margin declined 226bp y-o-y due to a steep hike in input prices (wood).
Agribusiness
Revenue grew a 41% y-o-y in Q2FY13. This was the result of higher wheat traded exports. Ebit margin came in at 8.8% despite lower leaf tobacco exports.
UBS