The governments disinvestment programme for 2012-13 got a boost on Wednesday with the offer for sale (OFS) of shares of NMDC attracting bids worth R5,910 crore. Of the 39.65 crore shares on offer, the issue was subscribed 1.73 times with bids coming in for 68.69 crore shares at a price of R149.15 apiece, according to data available with the stock exchanges.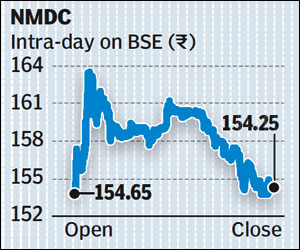 The government was looking to sell 10% stake in the mining major which will bring down its holding to 80% after having offloaded an 8.38% stake way back in March 2010. The floor price for the offer had been set at R147 per share. NMDC reported revenues of R2,611 crore in the three months to September with a net income of R1,678.6 crore.
While foreign institutional investors (FIIs) showed a fair amount of interest with merchant bankers indicating they may have put in applications for a third of the issue or around R1,800 crore, Life Insurance Corporation (LIC) is understood to have put in a cheque for around R1,200-1,400 crore or about a fifth of the subscription amount. Public sector banks and mutual funds too showed appetite, investment bankers said.
The response to the NMDC stake sale has been far more broad-based than it was when shares of Hindustan Copper were put on sale via the OFS route on November 23. In that instance, the state-owned insurer is believed to have put in about R350 crore, bailing out the R808-crore issue. The government hopes to collect R30,000 crore through disinvestments this year by selling shares in NTPC, SAIL, Gail and other PSUs.
The NMDC stock lost 3.17% on Wednesday to close at R154.25 on the National Stock Exchange. While the scrip ended in the red, the increase in the free float will make the stock more liquid.
The total number of shares outstanding is 396.4 crore and the free float will amount to 73 crore shares. The companys total market capitalisation is currently Rs 61,175 crore; after the allotment of the shares, the free-float market capital, at Wednesdays closing, will be Rs 11,248 crore. The market capitalisation of Coal India is Rs 2,25,100 crore. The stock commands a 12-month trailing earnings per share of Rs 10.90 and currently trades at a one-year forward PE of 9.1 times.