Raghuram Rajan took over as the 23rd Governor of the Reserve Bank of India. The 50-year-old economist took charge from D Subbarao at Reserve Bank of India head quarters on Wednesday. Express photo by Prashant Nadkar.
The new Governor of the Reserve Bank of India (RBI), Raghuram Rajan, said on Wednesday the Indian economy was "fundamentally sound" and had a "bright future" in his first remarks after taking the helm at the central bank earlier in the day.
Rajan said the government would look to reduce investments by banks in government bonds "in a calibrated manner". He added the RBI would work together with the government and the market regulator to steadily liberalise markets.
Rebooking rules for importers to ease
The central bank will allow importers to rebook 25 percent of cancelled forward contracts, Raghuram Rajan said in his first media briefing after taking charge.
New RBI Governor Raghuram Rajan: Quotes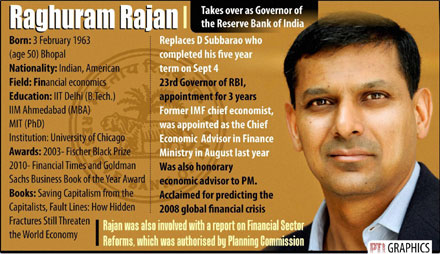 Rajan also said the Reserve Bank of India would allow the introduction of cash settled 10-year interest rate future contracts.
Offer swap window for dollar deposits
The Reserve Bank of India will offer a swap window to banks for fresh dollar deposits mobilised from non-resident Indians (NRIs), which will be available to lenders till Nov. 30, 2013.
The central bank will offer the swap for dollar funds mobilised for three years and above at a fixed rate of 3.5 percent per annum.
The RBI will also provide swap lines at a concessional rate of 100 basis points below the market rate to banks for their overseas borrowing, he said.
Push for more rupee trade settlement
Raghuram Rajan said India would push for more rupee settlement of trade. "As our trade expands, we will push for more settlement in rupees. This will also mean we will have to open up our financial markets more to those who will receive rupees so that they can invest it back in," Rajan said at a news briefing on his first day in office.