The banking system could take a collective hit of an estimated Rs 13,000 crore on bottomline in the next two years if the Reserve Bank of India (RBI) puts in place fresh provisioning norms for restructured loans.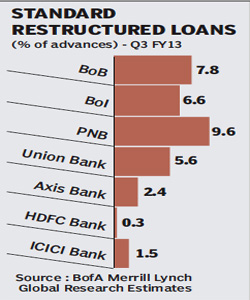 To begin with, banks will need to step up provisioning on the existing portfolio of restructured loans expected to touch R3.25 lakh crore at the end of March this year from 2.75% to 5% by 2015 March. This could cost them an estimated R7,300 crore.
Moreover, assuming the recasts continue at a pace of R5,000 crore a month recent recasts have been happening at a pace of R7,000 crore a month this would take the portfolio to roughly R4.5 lakh crore by 2015. That could result in additional provisioning requirement of the order of R6,000 crore.
If, however, there is more restructuring than anticipated, this number could be higher. Crisil estimates it will result in a R15,000 crore increase in the provisioning costs for banks over the next two years, denting profits by around 7%. BoA-Merrill Lynch has estimated a 3-8% of earnings hit for the banks through FY14-15.
Public sector banks that account for about 85% of the loans recast will be the most affected. At the end of the December quarter, Punjab National Banks restructured book was 9.6% of loan book, Indian Overseas Bank at 10%, Central Bank of India at 13.98%, Union Bank of India at 5.6%, Syndicate Bank at 6.3% and Bank of India at 6.6%.
Among the public sector banks, SBI has kept its restructured book at more manageable levels of 3.54% of advances, as of September 30, 2012. In case of private sector lenders, the proportion of restructured assets is much lower at 2.4% for Axis Bank, 1.5% for ICICI Bank and 0.3% for HDFC Bank.
M Narendra, CMD at Indian Overseas Bank, said new norms will definitely have an impact on the profitability of banks, but this will be manageable. The number and size of restructuring cases will start moderating. The actual hit on earnings could be far less than what it appears now, he said.