One of Ratan Tatas last dream projects, the low-cost car Nano, may have improved its sales chart during the current calendar compared with a year before, even making to the top 10 bestsellers list in India, but analysts say that a lot more needs to be done before it can be branded as much a success as Tata had envisioned.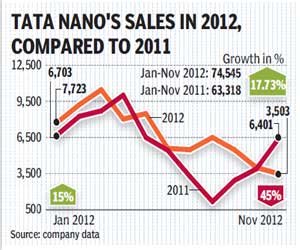 Sales of the Nano, which had dipped to an all-time low of 509 in November 2010, was up 18% during January-November, 2012 compared to 2011 averaging monthly sales of around 6,500 largely because of the very low base in the past year and the launch of about 300 new dedicated sales outlet in semi-urban areas. Also, a revised 2012 model was launched with small additions after six fire incidents last year. The company also launched attractive finance schemes this year. The highest-ever sales of the Nano was in March at 10,475 units.
To judge the success of Nano, one must ideally compare the performance with those of its close competitors in the small car segment Marutis Alto sells about 18-20,000 units a month while Hyundais i10 does about 12,000 units.
Even Marutis old warhorse the 800 sells around 2,000 units a month despite not being available in the top 13 cities.
Its like the Indian cricket team being in the top 10. When the Nano was designed, it was planned as a top-seller, or at max number two. Being in the top 10 is rather like a consolation prize. There are more questions than answers on what to do next, said Deepesh Rathore, MD at IHS Automotive India.
Going by the companys own benchmark, sales are still below target. Last year, Tata Motors officials had said the ideal target would be sales of 20,000 units a month, considering that the Sanand plant in Gujarat has an annual capacity of 2.5 lakh units. Going by current sales, more than half of the capacity still lies unutilised. The biggest challenge for Tata Motors will be breaking even with the Nano project and achieving profitability in sales.