EPS change is not comparable due to change in accounting moving to fiscal from calendar. (AP)
Q4CY13 reported loss lower than estimate:
Ranbaxy Laboratories Ltd
reported a net loss of Rs 1.6 bn against the HSBCe (estimate) of Rs 2 bn loss in Q4. This includes an exceptional loss of: (i) stock write-off at Toansa facility of Rs 2.6 bn; (ii) a transaction forex gain of Rs 101m; and (iii) a forex loss on loans of Rs 662m; (iv) a MTM (market-to-market) loss on Rs 1 bn. Excluding these exceptional items, adjusted net profit at Rs 1.2 bn was better than the HSBCe of Rs 1.1 bn due to lower raw material expenses, and lower interest expense. Ebitda margins at 9.0% (+120 bps y-o-y) were broadly in-line, helped by better product mix and a lower base in previous year though remediation costs for facilities remain high. As per Ranbaxy, core margins excluding remediation charges for Q4 were c12%.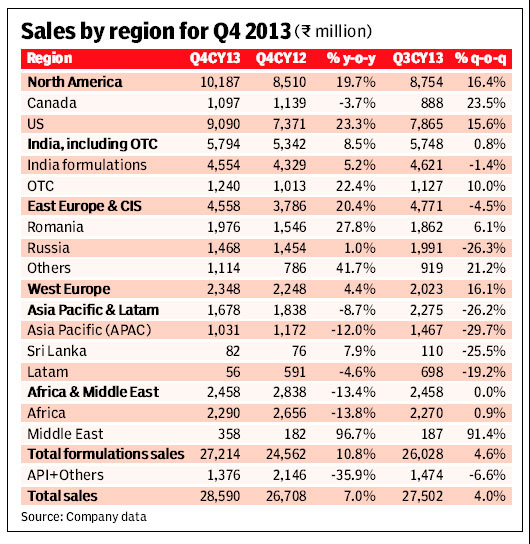 Base sales grew moderately with a mixed performance across regions: India formulations grew c8% y-o-y in Q4 to Rs 5.8 bn (Q3 was flat y-o-y) after market-wide issues related to new pricing policy gradually settling down in market. US sales of Rs 9.1 bn (23% y-o-y) mainly helped by strong traction in Absorica (current market share c17%). US base sales (excluding one-off) grew 30% y-o-y. While there is no clarity regarding time-line of launch of key opportunities like gValcyte, gDiovan, gNexium, Ranbaxy believes that its exclusivity on these products remains intact. The company is considering all options to monetise these opportunities, including partnership with third-parties for API (active pharmaceutical ingredient) source. Sales in Eastern Europe+ CIS region grew strongly at c20% while sales in West Europe, Latam, Asia Pacific, Africa and Middle East were below expectations.
Toansa alert impact: As per management, Toansa facility accounted for only 10-12% of API requirement for the US and c15% globally. Ranbaxy is adopting significant measures to address regulatory challenges. We have nonetheless reduced US sales by c15% for next fiscal and cut API sales by 40%. We have also built in all three FTF (first-to-file) opportunities (gValcyte, gDiovan, gNexium) in FY15 (with c30% share of sales with a third party which has resulted in higher sales and other expenses). EPS change is not comparable due to change in accounting moving to fiscal from calendar.
We value Ranbaxy at 16x (reverting back to lower PE on account of Toansa import alert, earlier 18x) Dec-15 EPS of Rs 18.5 and add a lower NPV (net present value) of Rs 45 (earlier Rs 60) for the FTF opportunities to arrive at revised TP (target price) of Rs 387 (from Rs 460).