Narendra Modi doesnt only believe in big business, he also wants small and medium enterprises to thrive. And, he wants a nation of budding entrepreneurs, for which he is creating a sovereign fund. Indias prime minister makes no secret of his ambitious infrastructure blueprint, his strategy to kickstart growth and his endeavour to put a roof on as many heads as possible. But hes pragmatic enough to know he cant do it without roping in private and foreign investors.
In what is clear evidence of the NDA government not just wanting to create jobs and skilling people, but also giving entrepreneurship a big boost, Thursdays Union Budget provided a generous sum of R10,000 crore to promote start-ups. The fund will help supplement the equity capital of small ventures and assist them with soft loans and quasi-equity products, and, if implemented properly, thousands of aspiring entrepreneurs, with sound business proposals, should get a leg-up.
Indeed, Thursdays Budget reflected much of Modis vision, and the schemes were backed by a generous allocation of resources with measures outlined to ensure funding in the future. The NDA government is conscious it cannot achieve the targets on it own. Which is why Modis mission8,000 km of roads will be built this year, as will hundreds of affordable homesis to be accomplished with support from the private and foreign sectors. Not just that, the NDA government will also tap into the savings of small investors to help fund the countrys infra rollout. Banks will be permitted to raise long-term infra bonds, which attract minimum statutory requirements, so that the funds are cheaper and can be lent at affordable rates. Moreover, real estate investment trusts (REITs) will be given a favourable tax treatmentthere was a fear of these being doubly taxeda move that should entice foreign players to invest.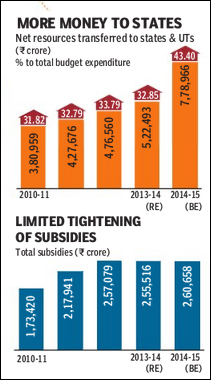 The government, however, is well aware of the pitfalls of the public-private partnership (PPP) model. Which is why, in addition to making generous allocations for the infra spaceroads alone will get R37,880 crore this yearThursdays Budget also announced a new entity, 3P Indiawith a corpus of R500 crore to help resolve issues that have de-railed PPP projects. We have also seen the weaknesses of the PPP framework, the rigidities in contractual arrangements, the need to develop more nuanced and sophisticated models of contracting and develop a quick dispute redressal mechanism, finance minister Arun Jaitley observed in his speech on Thursday.
Nevertheless, going by the Budget, the Prime Minister was not about to be deterred in his efforts to get the economy going; PSUs are estimated to make a capital expenditure of R2.48 lakh this year, which, in itself, should help revive the demand for capital goods. A sum of R7,060 crore has been earmarked for developing a hundred smart cities that will accommodate homes for the neo-middle class.
To ensure the project isnt short of resources, foreign investors have been given some incentives; the conditions for the built -up area and capital will be reduced from 50,000 sq mts to 20,000 sq mts and from $10 million to $5 million, respectively, albeit with a three-year post-completion lock-in. Whats more, where a minimum 30% of the total project cost is committed to low-cost, affordable housing, developers will be exempted from the minimum built-up area and capitalisation requirements, though the three-year lock-in remains.
Meanwhile, the government will also push affordable housing via the National Housing Bank. Real estate developers will be incentivised to set up affordable homes; again a fairly large amount of R4,000 crore has been set aside for this.