Narendra Modi kicking off his Bharat Vijay Rallies campaign at mini stadium in Hiranagar town of Kathua ditrict in Jammu Kashmir on Wednesday. Express Photo
Pointing out that three AKs have given enough reasons to Pakistan for celebrations, BJP's prime ministerial candidate Narendra Modi today called upon the people to stand united to take forward the path shown by former Prime Minister Atal Behari Vajpayee for resolution of Kashmir problem.
Elaborating all the three AKs as AK47, A K Antony and Arvind Kejriwal, he said that the path of development down by Vajpayee was the right path for resolution of all the problems facing the nation, Narendra Modi said while kicking of his countrywide Bharat Vijay Rallies campaign here this afternoon. Interacting with the highly responsive crowd, he asked whether youth in the state did not want jobs Whether people do not want to get rid of corruption and rising prices
Also read: Sunny Leone's 'Ragini MMS 2' must be banned, actress deported for 'assault on Hindu gods', says HJS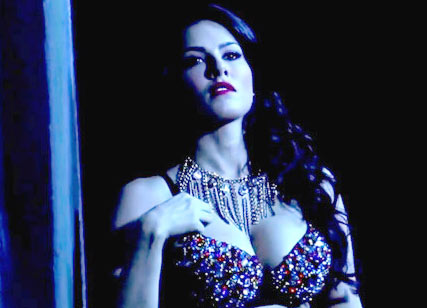 Narendra Modi also called upon people to end the dynasty rule both in the country and the state as it has already brought much harm to them during the last 60 years. Unless it is done, corruption cannot be uprooted from the country, he said while referring to former Prime Minister Rajiv Gandhi's remarks at a rally that of every rupee sent from Delhi, only 15 paise reach villages. "Whose hand was behind reducing that rupee to 15 paise" he asked telling people it was the Congress rule right from Centre to village panchayts at that time.
Narendra Modi also accused Union Defence Minister A K Antony and AAP leader Arvind Kejriwal of working like Pakistani agents. While Anotony describes the beading of two Indian soldiers by Pakistani troops as the handiwork of terrorists, one of the Kejriwal's colleague even talk of holding referendum in Kashmir, he added. Even the official web site of Aam Aadmi Party (AAP) carries an Indian map showing Kashmir part of Pakistan, Modi pointed out.
He also took a jibe on Congress for forgetting the slogan of its senior leader and late Prime Minister Lal Bahadur Shastri's slogan of "Jai Jawan, Jai Kissan". Referring to the killing of armymen in terror attacks and suicide by farmers in the country, he said tbat Congress' new slogan now apoears to be " Mar Jawan, Mar Kissan".
Narendra Modi said much damage has been caused to the nation and now, to save it, he has come to the people seeking support for the BJP not as a ruler, but as their servant. "I want to act as your chowkidar for 60 months as the country only needs a watchdog and not a ruler".
He also assured to solve the problems of refugees from Pakistan occupied Kashmir, West Pakistan and the migrants from Kashmir. In his 40 minute long address, Narendra Modi laid emphasis of development saying it alone was on his agenda.
Earlier, Narendra Modi paid obeisance at the shrine of Vaishno Devi bear Katra in the morning.