Cost-efficient Monorail offers a cheap and comfortable mode of transport to Mumbaikars
India's first monorail has got to a flying start in Mumbai. Around 19,600 passengers travelled on this mass rapid transport each day on the first two days of its operation. However, a real estimate of the daily ridership would be available only when the initial euphoria of Mumbaikars to take a joyride on the Monorail settles.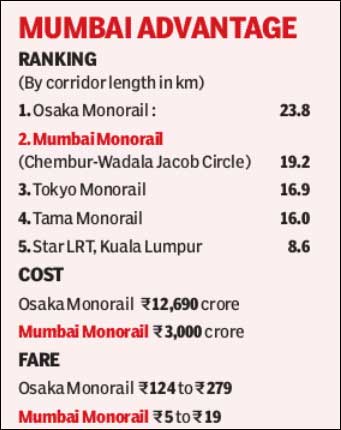 For now, only the first phase of 8.9 kilometres has commenced operations between Chembur in the eastern suburbs of the Mumbai Metropolitan Region (MMR) and Wadala, on the outskirts of the island city of Mumbai, at a cost of R1,100 crore. The work on the R1,900-crore second phase, stretching till Jacob Circle, near Byculla in south Mumbai, is still going on and is expected to be over by March 2015.
PHOTOS: Mumbai Monorail opens for public
However, the project has been fraught with delays, and the first phase has commenced operations after a delay of two years. The presence of unforeseen underground utilities, difficulties in land acquisition, rehabilitation of project affected people and environment clearances caused delays. MMRDA officials said since the project was the first of its kind in India, its construction and civil work were different from other infrastructure projects like metro, and this took time.
Once the full 19.17-km Chembur-Wadala-Jacob Circle Monorail corridor is operational, it is expected to carry 7,400 passengers per hour, and in terms of length it will be the second longest Monorail corridor in the worldthe longest being Japans Osaka Monorail corridor which is of 23.8 km. While there are 19 stations on the Osaka Monorail corridor, the Mumbai Monorail corridor will have 17 stations.
Taking the second position, Mumbai Monorail will be replacing Tokyo Monorail, which is currently the second longest monorail corrdior of 16.9-km. This is followed by Tama Monorail, which is 16 km long and then Star LRT in Kuala Lumpur of 8.6 km.
Interestingly, the Osaka Monorail cost four times the expected cost of Mumbai Monorail. While Osaka project was constructed and put into operations by spending R12,690 crore, the Mumbai Monorail will cost just around R3,000 crore.
Even in terms of fare, the difference in Mumbai Monorail and Osaka Monorail is quite stark. Mumbai Monorail will be charging minimum and maximum fare of R5 and R11, respectively, for the first phase of the project, and once the Jacob Circle section is complete, the maximum fare will be R19. In comparison, Osaka Monorail's fares range from $2 (R124) to $4.50 (R 279).
The Mumbai Monorail project is being constructed on a cash contract basis by the Mumbai Metropolitan Region Development Authority (MMRDA), the owner and operator of the project. A consortium of India's engineering major Larsen & Toubro Ltd and Malaysian firm Scomi Engineering are executing the project.
To begin with, monorail will have four coaches, having a combined carrying capacity of 2,300 passengers, running every 15 minutes. However, as traffic figures grow, the frequency of trains will be increased and the number of coaches will also increase to 10.
"For now, the monorail will run at 15 minutes interval, which will be reduced to seven to eight minutes and eventually we aim to provide a service at every four minutes," UPS Madan, metropolitan commissioner, MMRDA, said.