Mukesh Ambani's residence 'Antilia' in Mumbai has six stories of underground parking and three helicopter pads. (Reuters)
Reliance Industries Chairman Mukesh Ambani's skyscraper residence in Mumbai is the most expensive billionaire home in the world, according to a Forbes list which also includes Indian-origin steel tycoon Lakshmi Mittal's houses in London.
Ambani's 27-story, 400,000-square-foot skyscraper home Antilia named after a mythical island in the Atlantic, tops the Forbes list of the most expensive homes in the world.
"The title of the most outrageously expensive property in the world still belongs to Mukesh Ambani's Antilia in Mumbai," Forbes said adding it is the world's most expensive home "far and away" with construction costs reported between a range of USD one billion to two billion.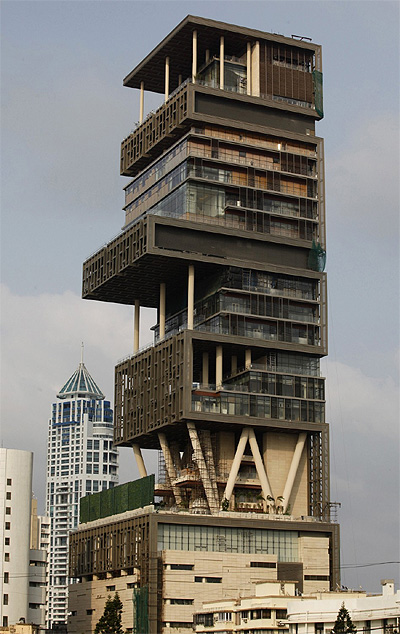 The house has six stories of underground parking, three helicopter pads, and reportedly requires a staff of 600 to keep it running.
Putting Antilia's scale and cost into perspective, Forbes compared it to '7 World Trade Center', a 52-story tower that stands near Ground Zero in Manhattan with 1.7 million square feet of office space that was reportedly built for two billion dollars.
Mittal's houses in London's Kensington Palace Gardens occupy the 5th and the 18th spot on the list of the 21 most expensive billionaire homes in the world.
The steel magnate is believed to own three homes on the high-security street known as 'Billionaires Row', including a neo-Georgian mansion near the Israeli embassy.
Forbes said the home, rumoured to have been purchased for his son, was sold by hedge fund billionaire Noam Gottesman.
The value of the house in 2008 was about 222 million dollars and it is reportedly up for sale now.
Another house owned by Mittal on the upscale street was purchsed for nearly USD 90 million in 2004.
He had picked up the 55,000-square foot mansion from billionaire Bernie Ecclestone and after pouring millions more into its renovation, named it "Taj Mittal".
The house has 12 bedrooms, a pool and marble sourced from the same quarry as the Taj Mahal, Forbes said.
"As 2014 continues, the list of outrageously-priced homes owned by billionaires is stacking up. Although the market cooled off a bit in in 2013, with no properties trading hands above the USD 100 million mark, 2014 has kicked off with a bang. London set a new record, and three homes have sold for more than USD 100 million so far this year in the US alone," Forbes said.
In second place is on the list is 'Villa Leopolda', the home of Brazilian philanthropist and social figure Lily Safra in France.
Forbes said the estate is reportedly one of several waterside homes that King Leopold II of Belgium built for his many mistresses.
Set on 20 acres, the massive home was valued at 750 million dollars at the time when Russian billionaire Mikhail Prokhorov tried to buy it in 2008.
The third-most expensive billionaire homeand the most expensive in the United States is the home of American investor and businessman Ira Rennert in Sagaponack, New York.
Its value is pegged at about USD 248.5 million in its 2014 tentative tax assessment.