The October-December quarter brought little cheer for public sector banks that are still struggling to manage their asset quality and keep net interest margins (NIMs) from falling.
Bankers say restructured loans remain an overhang, especially in sectors like power, construction, steel, paper mills and hotels that have been affected by issues ranging from raw material linkages to stretched working capital cycles. Country's largest lender State Bank of India (SBI) restructured accounts to the tune of R2,840 crore in the quarter compared with R4,694 crore in the previous quarter. However the bank expects a further R3,700 crore (excluding Suzlon's R1,300 crore) to be recast in the January-March quarter.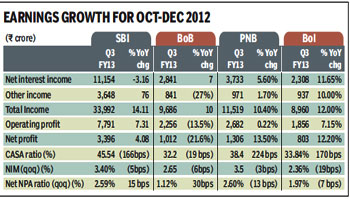 SBI's profit grew only 4% to R3,396 crore for the quarter ended December owing to increased provisioning.
The bank saw fresh slippages of R8,165 crore and made loan loss provisions of R2,766 crore. SBI has a loan restructuring pipeline of R3,700 crore for the quarter ending March 31.
Chairman Pratip Chaudhuri has attributed the rise in non-performing assets (NPAs) to the economic slowdown, high interest rates and payments due from the government to contractors.
Chaudhuri said the situation would improve in the January-March quarter as payments from government projects are expected to get cleared improving the cash flows of the contractors. Also with a large number of mines allowed to open, the iron ore linkages to steel companies would improve, he added. Bank of Baroda (BoB) and Punjab National Bank (PNB), however, reported higher restructuring numbers compared with the previous two quarters at R2,199 crore and R3,700 crore respectively. A BoB official said restructuring in the quarter for the bank was mostly in the SME space, which tends to be cyclic in nature. Slippage rate on the restructured book is around 12-13%, the official added.
BoB's net NPAs, as a ratio of total assets, stood at 1.12%, rising by 30bps sequentially. PNB, which was struggling with higher amount of non-performing assets (NPAs) during the preceding quarter, improved recovery procedures in the third quarter on better performance in the asset quality segment.
PNB reported net NPAs of R7,586 crore in the quarter, down nearly 4% sequentially. As a ratio of total assets, net NPAs stood at 2.6%, which was about 13 basis points (bps) lower than the previous quarter. The public sector lender reported net profit of R1,306 crore in the quarter, up 13.5% from a year ago.
Most state-owned lenders saw some form of moderation in their NIMs, as domestic and international loan growth have been disappointing.