Till Wednesday, the monsoon in India has been deficient by 38% of the long period average.
After a sluggish start, the southwest monsoon has virtually come to a stop in the last few days but it could pick up pace again early next month, a senior official of ministry of earth sciences said on Wednesday. Monsoon rains are likely to stick to the west coast and northeastern parts for the next few days and will be below normal for June. The rains are likely to pick up pace in the first week of July, Shailesh Nayak, secretary, ministry of earth sciences told FE.
Till Wednesday, the monsoon has been deficient by 38% of the long period average (LPA), which is calculated on the basis of a 50-year average rainfall of 89 cm.
While 18% of the country has received 'normal' rainfall so far, 57% of area continue to be deficit in terms of rainfall received. The most worrying aspect is that 25% of the country has received little or scanty rainfall since early June when the monsoon entered Kerala coast.
The worst affected areas are coastal Andhra Pradesh, Marathawada, Saurashtra, Kutch, Odisha, western Madhya Pradesh Rajasthan, western Uttar Pradesh, Punjab, where the rainfall had been marginal or scanty.
Meanwhile, the IMD in a statement said heat wave conditions continued over parts of Odisha, Vidarbha and coastal Andhra Pradesh, Madhya Pradesh, Gujarat region. ''There are clouds over parts of east Bihar, West Bengal central and south Bay of Bengal and low and medium clouds are seen over rest parts of the country.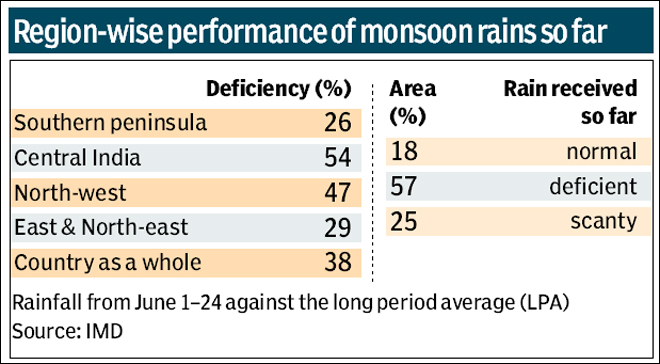 In a bid to deal with a deficit monsoon, the National Agromet Advisory Service, a joint collaboration with IMD and ministry of agriculture has asked farmers to continue land preparation and nursery sowing of rice and other kharif crops such as pulses and oilseeds in Chhattisgarh, Odisha and Bihar
The advisory has asked the farmers in central, western and southern parts of the country where the rainfall has been deficit to also continue with nursery preparation for rice crop so that it could be directly transplanted once monsoon rains occur.
However, there is encouraging data from the Central Water Commission, which says that the storage positions of 85 key reservoirs in the country is 103% of the storage compared to last year and 142% of storage of average of last ten years.
The IMD had forecast that monsoon rains this year (June - September) would be 93% of the LPA, with a 33% probability of deficient monsoon rains and 70% chances of a recurrence of the El Nino effect.