Amid the gloom of a sub-normal monsoon, the HSBC services PMI for June has come in at 54.4, up sharply from Mays 50.2. The data indicate a pick-up in activity with new business flows at their strongest since January last year. Indeed, car sales in June for a bunch of manufacturers are up 15% year-on-year, which analysts say signals an incipient recovery in the space. However, much of the volumes are thanks to hefty discounts, indicating little pricing power.
Whats worrying however, is that sales of commercial vehicles remain subdued despite nearly two years of a slowdown and a weak early monsoon roughly 43% below the long period average that might push back the economic recovery.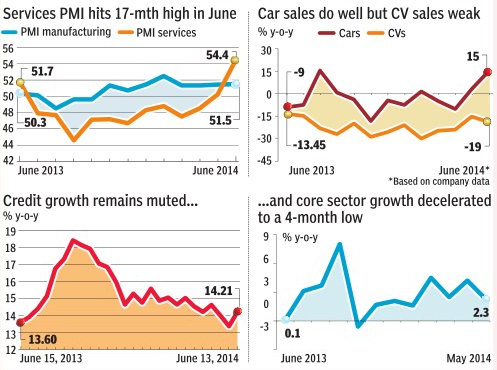 Already, rural wages are growing at a slower pace, not good news for makers of consumer goods for whom the hinterland is a big catchment. Manufacturers of capital goods too might not see their order books swelling in the near future given theres a fair amount of capacity idling. Indeed, that there are virtually no takers for long-term project finance indicates companies are in no rush to expand their businesses.