Microsoft Corporation VP Joe Belfiore demonstrates the new Cortana personal assistant during Build Conference in San Francisco. (AP)
Microsoft Corporation today took on the challenge posed by Apple's Siri and Google Now by announcing its own voice assistant called Cortana for Windows phones.
Announcing the launch of Cortana, Joe Belfiore, corporate vice president and manager for Windows Phone Programme Management at Microsoft, described the voice assistance as "world's first truly personal digital assistant".
"We were inspired by the popular character from Halo who served as a brilliant AI and a deeply personal digital assistant to Master Chief...so we called her Cortana," Belfiore said at a Microsoft developer's conference 'Build2014' here.
Powered by Bing, Cortana is the only digital assistant that gets to know the user, he said.
Cortana builds on the relationship that one can trust and gets better over time by asking questions based on the user's behaviour, he said.
"She detects and monitors the stuff you care about, looks out for you throughout the day and helps filter out the noise so you can focus on what matters to you," Belfiore told the annual conference being attended by some 5,000 developer's from across the globe.
Cortana will soon be launched in the US in the trial version of "beta" and then will be launched in the US, Britain and China in the second half of 2014 with other countries to follow afterwards into 2015.
Making a live demonstration of the interesting product, Belfiore said Cortana is not only designed to interact with a third-party app like Face Book but also over a period of time based on the user's interaction, it acts like a real-time personal assistance.
"All the stuff Cortana curates for you is stored in Cortana's Notebook. This information enables Cortana to be proactive and helpful throughout the day," he said.
Cortana, Belfiore said, can also manage one's phone when one does not want to be disturbed by setting quiet hours where she will silence any notifications, in-coming calls, and texts, he noted.
"Cortana understands the 'inner circle' of people-closest-to-you and she can let them break through at any time during quiet hours," he said.
"And Cortana is the only digital assistant that lets you setup people reminders. You can have Cortana remind you that your buddy owes you USD 20 the next time you talk to him. And all of these interests and preferences are under your control via Cortana's notebook," the top Microsoft official said.
Also read:India will produce next breakthrough app, says Microsoft Corporation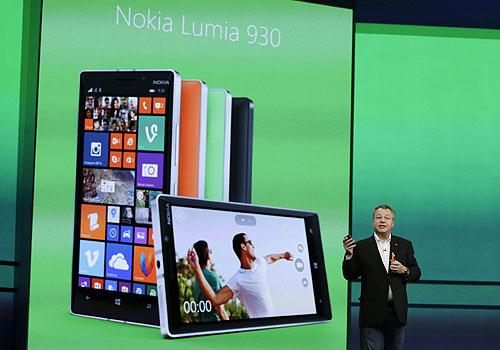 Stepen Elop, executive vice president of Nokia introduces the new Nokia Lumia 930 phone during a keynote address of the Microsoft Build Conference in San Francisco. (AP)