Micromax, Karbonn and Lava are among the top five players which includes Samsung and Nokia. (Reuters)
While the smartphone market in India continues to grow, Micromax has emerged as the overall leading mobile phone supplier in India in Q2 2014, surpassing Samsung by capturing 17 per cent of the mobile market- smartphones and feature phones combined. Samsung, however, continued to dominate the smartphone space with over 25 per cent market share. On the feature phone segment, Micromax overtook Nokia for the first time with over 15 per cent market share in Q2 2014.
According to a market research report by CounterPoint research, the overall Indian mobile phone market witnessed a growth of 2 per cent annually. The smartphone segment grew 68 per cent annually, whereas, the demand for feature phones dropped 16 per cent annually in Q2 2014.
The report stated Indian brands together captured more than two-thirds of the total mobile phone shipments and more than half of the smartphone shipments.
Motorola's Moto X/G/E models have performed well and have helped the company to be the fourth largest smartphone brand in Q2 2014, surpassing Nokia, Apple, Sony and others.
Considering the total handset shipments in the quarter, which includes both smartphones and feature phones; three Indian brands - Micromax, Karbonn and Lava are among the top five players which includes Samsung and Nokia.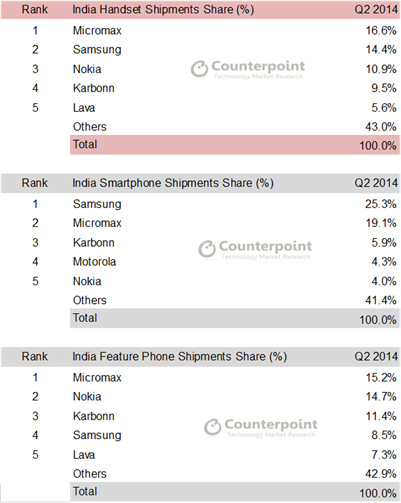 The competition is going get more fierce with Asian OEMs such as Xiaomi, Gionee, Huawei and Asus entering the Indian smartphone segment with premium-like hardware at an aggressive price-point attracting young tech-savvy but price-conscious urban buyers. However, these brands will have to work hard on their brand awareness, distribution and service network to continue the growth beyond the early spike in demand.
Micromax pips Samsung as India's leading mobile phone brand research
(Reuters) - Indian budget smartphone maker Micromax has ousted Samsung Electronics Co Ltd as the leading brand in all types of mobile phones in the April-June quarter, grabbing a 16.6 percent market share, a recent research report showed.
Samsung had 14.4 percent market share, down from 16.3 percent in the first quarter, said the report by Counterpoint Research. In the smartphone segment, however, Samsung still came out tops.
"Micromax is leveraging its wider distribution reach, growing brand awareness not only in urban but in rural India with affordable low-cost handsets," said Counterpoint analyst Neil Shah.
In price sensitive India, local mobile phone makers like Micromax are successfully gaining market share with low cost phones.
These companies mostly use chipsets made by MediaTek , which tend to be cheaper than those made by industry leader Qualcomm Inc, and outsource production to China and Taiwan, instead of investing in manufacturing plants, further helping keep costs down.
Together, local Indian mobile phone manufacturers had about 32 percent of the domestic market, according to the report, and more than two-thirds of the total shipments.
In the smartphone segment, Samsung still had the largest market share in terms of shipments, at 25.3 percent during the second quarter while Micromax had 19.1 percent.
But Samsung's dominance is slipping, Shah said, adding that in the first quarter, Samsung had a 33.3 percent market share in smartphones, while Micromax had 16.7 percent.
India ranks behind China and the United States in smartphone sales, with up to 90 million smartphones expected to be sold there this year, according to Counterpoint.