The Pentagon has sent a black box locater and a robotic underwater vehicle, to Perth, Australia to help search for the debris of missing Malaysian plane in Indian Ocean.
While the locater, towed pinger could help locate the black box, the Bluefin-21 autonomous underwater vehicle would help find the wreckage of the Malaysian plane, that went missing about a fortnight ago while on its way from Kuala Lumpur to Beijing.
"This afternoon, the towed pinger locater, as well as a Bluefin-21 autonomous underwater vehicle were flown out of JFK Airport, New York to Perth. They'll arrive sometime tomorrow," the Pentagon Press Secretary, Rear Admiral John Kirby, told reporters yesterday.
"This gear, while incredibly useful, is being sent to Perth really because of a physics problem. We don't have a debris field that we can go look for specifically. We don't have anything to indicate where the aircraft is or even that it is down at the bottom of the ocean," he said.
Kirby said Navy Admiral Samuel J Locklear, the commander of US Pacific Command, "made a very prudent and wise decision to move the equipment that could be useful should a debris field be found, or should we think we can get close to where
the black box may be.
The high-tech Bluefin 21 autonomous vehicle can operate at the depth of 14,700 feet and has an endurance of 25 hours at three knots.
"It's basically an underwater unmanned vehicle that has side-scanning sonar and what we call a multi-beam echo sounder.
It would be useful should there be a debris field that there should be maybe some underwater objects that we believe need to be researched, to go look at it or to use sonar to try to ascertain what it is," he said.
"It is only going to be valuable if you know you have something down there that's worth going and taking a closer look at," he noted.
The pinger locater, he said, is the same equipment that the Navy used to help find the black box from Air France crash.
"It's a highly sensitive listening device and it's designed to help hone in the location of the black box itself, which as you know will emit a sound signal," Kirby said.
The Malaysia Airlines Boeing 777-200 with 239 people, including five Indians and an Indo-Canadian, went missing on March 8, one hour after taking off from Kuala Lumpur.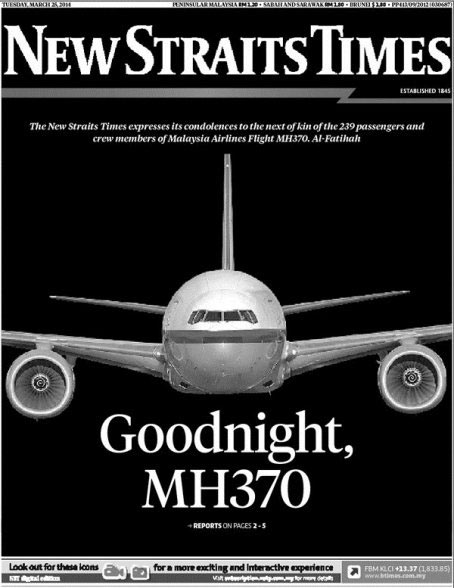 The New Straits Times' darkened front page showed an aircraft above the words "Goodnight, MH370" -- a reference to the last message from the cockpit, "All right, good night", before the Malaysia Airlines jet lost contact on March 8.
Also read: Malaysia Airlines Flight MH370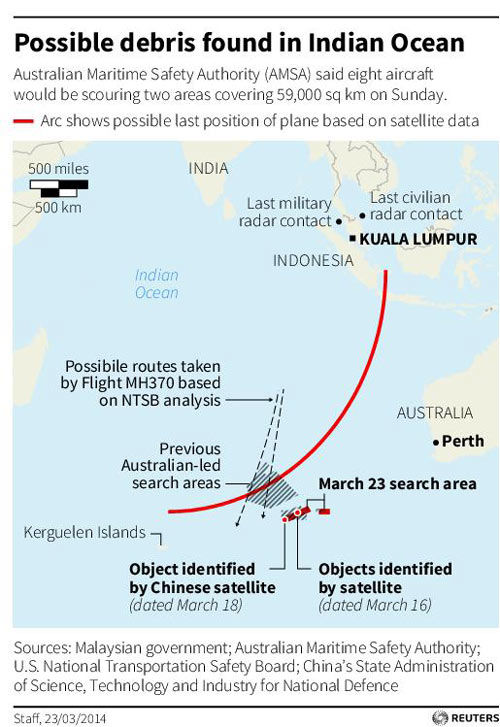 Updates with latest search area and possible debris location for Malaysian Airlines flight MH370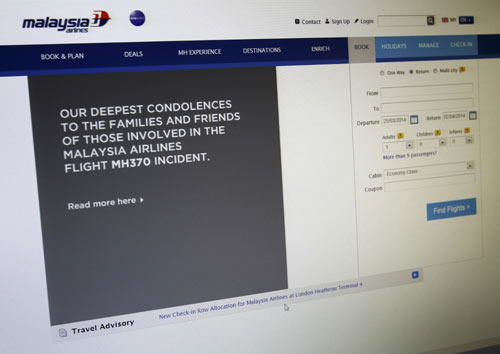 A sympathy message is displayed at the webpage of the Malaysia Airlines website, in Shah Alam, outside Kuala Lumpur, Malaysia, Tuesday, March 25, 2014. It was the grim news that families of the missing Malaysian Airlines flight had dreaded for weeks, and on Monday they heard it from Malaysias prime minister: new analysis of satellite data indicates the missing plane crashed into a remote corner of the Indian Ocean. (AP)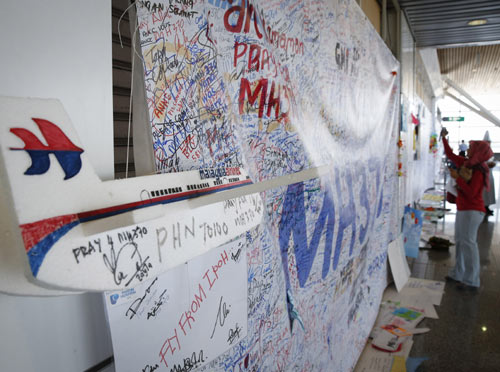 A model plane of MH370 on display at well wish board for passengers aboard a missing Malaysia Airlines plane at Kuala Lumpur International Airport in Sepang, Malaysia, Tuesday, March 25, 2014. China demanded Tuesday that Malaysia turn over satellite data used to conclude that a Malaysia Airlines passenger jet was lost in the southern Indian Ocean with no survivors during a flight to Beijing.(AP)