Much in contrast to the buying appetite of foreign institutional investors (FIIs), domestic fund houses have been busy offloading Indian equities in the past few months. According to Capitaline data, 62 companies in the BSE 100 universe have witnessed a sequential drop in mutual fund shareholding in the September quarter.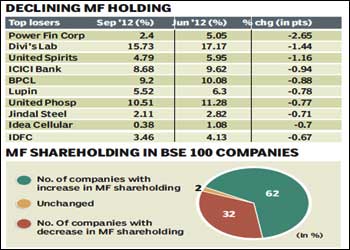 Further, average MF shareholding of these 62 companies the arithmetic mean of company stakes held by foreign institutions decreased 0.4 percentage points (40 bps) quarter-on-quarter in September. Companies to have witnessed a sharp fall in MF shareholding include Power Finance Corporation (2.65 percentage points), Divi's Laboratories (1.44 percentage points), United Spirits (1.16 percentage points) and ICICI Bank (0.94 percentage points).
In contrast to FIIs who showed huge interest in the Indian markets during the quarter domestic MFs sold across most sectors, said a recent Morgan Stanley report. According to the report, domestic MFs net sold $1.1 billion worth of Indian equities during the July-September period, against a net inflow (net buy) of $50 million in the previous quarter. A broader look at the Capitaline data indicated that the decline in MF shareholding eased a little, with 107 or 53.5% companies within the BSE 200 universe seeing drop in mutual fund shareholding.
Some of the sectors that witnessed huge selling pressure by domestic MFs were FMCG, financials, capital goods, power generation & distribution, mining and metals, telecom services, IT software and automobiles, among others.
On the other hand, domestic fund houses increased their shareholding in companies belonging to sectors like construction, real estate, banks, media & entertainment, among others.
Instead of looking at sectors, we concentrated on individual stockpicking based on valuations. For instance, we bought Canara Bank, but sold ICICI Bank looking at the valuations, said a fund manager, who did not want to be named. Fund managers are of the view that retail investors who remained stuck with their investments for 3-4 years without gaining significant returns used the September rally to exit the market.
The volatile markets, despite government action on fiscal consolidation, weakened investors patience and forced them to book profits, they explained. According to the Association of Mutual Funds in India (Amfi), equity schemes saw outflows of R3,306 crore in September even as the benchmark indices surged a little over 7%.