The loan portfolio of Indias microfinance sector is set to rebound to Rs 45,000 crore by March-end 2016, growing at a compounded annual growth rate (CAGR) of 35%, rating agency Crisil said in a report on Thursday.
According to a Crisil analysis, MFIs need to raise equity of at least Rs 1,800 crore over the next two years to maintain the growth momentum and gearing at current levels.
Unlike in the period prior to the Andhra Pradesh crisis, MFIs current growth phase is more resilient, supported by stronger building blocks and a rebound in stakeholder confidence.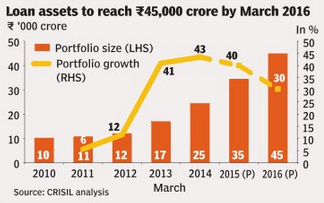 Pawan Agrawal, senior director, Crisil Ratings said: The sector is far more resilient today than it was in the past. Greater clarity from the RBIs guidelines, deeper penetration of credit bureaux, and increasing use of technology to improve collections are distinctive features of the current phase of growth in Indias MFI sector.
Crisil also noted that improved geographical spread of assets has raised stakeholder confidence and improved funding availability.
According to the report, no state in India now accounts for more than 20% of loans from the MFIs, down from 35% at the time of the crisis. Over the past three years, MFIs have raised Rs 2,000 crore as equity, and R24,000 crore as additional funds from banks.
Notably, bank funding to the MFIs is eligible for priority sector lending status. However, the MFIs dependence on bank loans, specifically from the top five banks, is expected to remain high over the medium term, the report added.
The report said that MFIs are adequately capitalised for their current scale of operations. However, three years of rapid growth has skewed the sectors gearing to 5.4 times, from around three times in the past.
To do so, they will need to address challenges associated with low promoter shareholdings and a near-term decline in profitability, Crisil said.