The WHO wants mercury removed from all aspects of human life and, particularly, healthcare. Reuters
If the World Health Organisation (WHO) has its way, mercury-based fever thermometers and blood pressure devices could be a thing of the past.
Through its programme called Mercury-Free Healthcare by 2020, the healthcare agency is calling for a phaseout of all mercury-based fever thermometers and blood pressure devices by 2020 across the globe.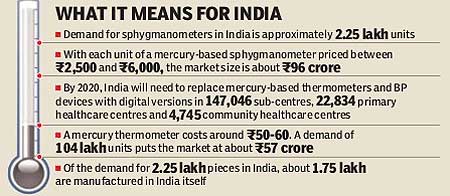 However, for that to happen, the Minamata Convention on Mercury needs to be signed and ratified by at least 50 countries. As of October 17, 92 countries have signed the agreement, but none of them have ratified it so far. India and the US are among those yet to sign the declaration.
The WHO wants mercury removed from all aspects of human life and, particularly, healthcare. It intends to do this by ending the manufacture, import and export of these devices and by supporting the deployment of accurate, affordable and safer non-mercury alternatives.
The Minamata Convention, adopted on October 10 at Kumamoto in Japan, allows countries to use mercury in medical measuring devices until 2030 under special circumstances, but urges them to meet the original target of 2020.
Thermometers and blood pressure measuring devices, technically termed as sphygmanometers, are the most basic of medical devices used in the healthcare system. If India ratifies the treaty, it will need to replace both the devices with digital versions in its 147,046 sub-centres, 22,834 primary healthcare centres and 4,745 community healthcare centres (numbers according to 12th Planning Commission report).
The demand for sphygmanometers in India is approximately 2.25 lakh units. With each unit of a mercury-based sphygmanometer priced between R2,500 and R6,000, the market size is about R96 crore. A mercury thermometer costs around R50-60. A demand of 104 lakh units puts the market at about R57 crore.
Both devices are mostly manufactured by small-and-medium-sized enterprises in India, with a couple of big players. Pune based-Diamond is the countrys most prolific supplier of sphygmanometers while Aligarh-based Hicks is well-known for thermometers.
One of the main concerns of WHO is the toxic effects of mercury spillage caused by breakage of thermometers and other devices. Mercury, when spilled, disseminates in the air and can cause brain, kidney and lung damage, when inhaled.
Mercury usage in Indian healthcare sector is about 21 tonne, with spillage due to instrument breakage of 8 tonne annually. Mercury is one of the top 10 chemicals of major public health
concern and is a substance which disperses into and remains in ecosystems for generations, causing ill-health and intellectual impairment to exposed populations, WHO director-general Margaret Chan said.
However, doctors are wary of using digital sphygmanometers as they believe they cannot be relied upon to give an accurate reading. These are all perceived barriers, that is cost and accuracy, said Toxic Links associate director Satish Sinha. Healthcare professionals have been used to a particular kind of an instrument or product and that is why they find it difficult to shift. Its more of a mindset issue.
Toxic Links is an NGO based in Delhi, which advocates the elimination of mercury usage from all sectors. Sinha said there are hospitals in Delhi that have already shifted to a non-mercury environment and have no complaints about it. I think the question of accuracy can also be similar in the mercury devices if they are not calibrated and are not of standard, he added.
Of the demand of 2.25 lakh pieces in India, about 1.75 lakh is manufactured in the country itself. Sinha believes if mercury is phased out, it will usher in a new market where Indian manufacturers can meet global demand for non-mercury-based medical devices.
However, Pune-based Diamond said its sales of mercury sphygmanometers to mercury-free ones is in the ratio of 65:35. We expect doctors mindset to accept mercury-free BP apparatus in the future, the company said, but added that if mercury devices are phased out, it will lead to unemployment and dyes and tools used for manufacturing that specific instrument will be rendered useless.