The newly launchedMaxx Mobile handsets include 19 feature phones and 7 android phones.
Homegrown phone maker, Maxx Mobile, announced the launch of 26 new handsets on the occasion of 64th Republic Day of India, at prices that fit every pocket.
The newly launched handsets include nineteen feature phones and seven android phones. The phones are priced between Rs 1,100 and Rs 7,777.
With this Maxx Mobile's total new handsets launched during FY 2013-2014 till date is 105, of which 75 are feature phones, 28 are android phones and two are tablets.
Commenting on the launch, Ajjay Agarwal, CMD & Founder, Maxx Mobile, said, We are pleased to announce the launch of 26 models on this occasion of great national importance. We had launched 15 models on Aug 15, 2013 and now are launching 26 models on January 26 offering the consumer freedom to choose his handset.
By offering the largest variety of handsets at varied price points, we want to connect every Indian to the mobile ecosystem, thus contribute to mobile inclusion, said Agarwal.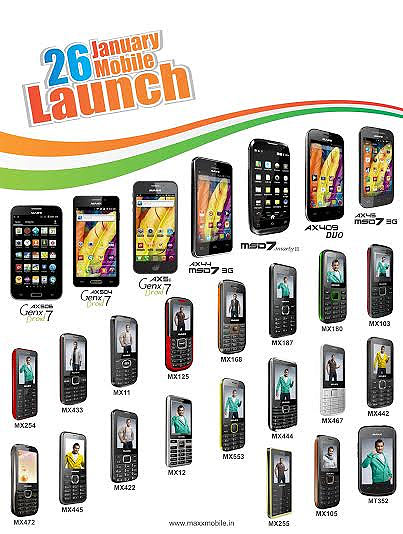 Among the newly-launched models are seven Android phones, equipped with Andoid OS Gingerbread and Jelly Bean, 256 MB to 512 MB RAM, up to 2 MP primary camera, LED flash light and up to 1600 mHz battery. The launch also includes nineteen feature phones, in the 1.8-inch to 2.8-inch segments, equipped with dual SIM, GPRS, long lasting battery life of up to 1500 mHz, security features such as anti-theft and privacy protection and up to 8 GB worth of expandable memory.