MAS GMR Aero Technic Limited (MGAT) has inked first contract with British Airways to provide the line maintenance technician support for the airline's new Boeing 787 Dreamliner aircraft at Hyderabad's Rajiv Gandhi International Airport (RGIA), thus completing its foray into aircraft line maintenance business, the company said on Tuesday.
MGAT, which inaugurated its first office at RGIA's engineering building on Tuesday dedicated to line maintenance, is an equal joint venture between Malaysian Aerospace Engineering Sdn Bhd (MAE) and GMR Hyderabad International Airport Limited (GHIAL).
Line Maintainance is a process of removal, installation, servicing, repairs, replacements of certain aircraft parts, which also includes inspection of a flight control system that has been assembled, adjusted,repaired, modified or replaced and carrying out daily inspection of the aircraft.
Also read:
Raghuram Rajan's RBI keeps interest rates on hold, inks status quo for bank loan EMIs
BSE Sensex hits new record high even as Raghuram Rajan's RBI bats for status quo on repo rates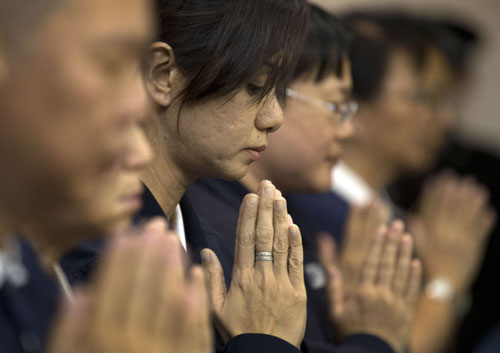 Volunteers from Taiwan's buddhist association offer prayer for the Chinese passengers aboard the missing Malaysia Airlines flight MH370, at a hotel in Beijing, China. Australia deployed Tuesday an airborne traffic controller over the Indian Ocean to prevent a mid-air collision among the many aircraft searching for the Malaysia Airlines jetliner that went missing over three weeks ago. (AP)
The Joint Venture currently has a Line Maintenance approval from DGCA (India) for A320 and B737 aircraft types and from European Aviation Safety Agency (EASA) for Airbus A320, Boeing 737 NG, Q400 and ATR 42/72 aircraft respectively,
We are confident eventually we will be able to extend to other Line Stations at key airports in the country, said Uday Naidu, MGAT's Chief Operating Officer.
With Base Maintenance experience and backend support from our own MRO facility at Hyderabad, we will be able to provide value-added services to our Line Maintenance customers both domestic and international, he added.
MGAT also has an aircraft paint hangar and infrastructure that can paint a narrow body aircraft. It's MRO facility, with its hangar infrastructure, can accommodate wide-body aircraft such as Airbus A330 and Boeing B777. Currently, it is performing redelivery checks on two B737 aircraft along with regular C-checks.