On Tuesday, Maruti Suzuki touched a record high of Rs 2,603.25 intra-day as its June sales jumped 33% y-o-y to 1,12,773 units. (Reuters)
The auto index on the Bombay Stock Exchange (BSE) touched a lifetime high of 15,780.86 points on Tuesday, led by Maruti Suzuki that, too, touched a record high of R2,603.25 intra-day as its June sales jumped 33% y-o-y to 1,12,773 units.
Analysts attributed the rise in BSE Auto to improved sentiments after the general elections. After the elections, sentiments have improved, driving inquiries and leading to a step-up in conversions, particularly in passenger vehicles (PVs) and Medium & Heavy Commercial Vehicles (MHCVs). However, a delayed monsoon is raising concerns among two-wheeler and tractor dealers as consumer sentiment in the rural belt could get impacted, Motilal Oswal Financial Services said in a recent report.
BSE Auto ended with gains of 3.2%, while the BSE benchmark Sensex ended higher by 0.4% on Tuesday. Among other auto stocks, Motherson Sumi touched a lifetime high of R351.80 before closing 5.9% higher at R343.50. Mahindra & Mahindra (4%) and Tata Motors (4.6%) were other gainers. Tata Motors gained on the back of news that TAL, its wholly-owned subsidiary, delivered advanced composite floor beam to Boeing, even as the automakers June sales numbers were down 27% y-o-y.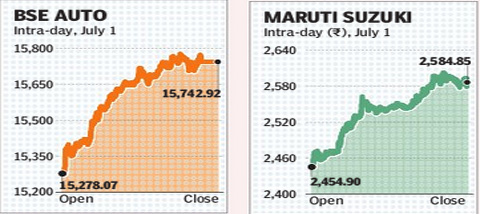 Maruti Suzuki ended with gains of 6% at R2,584.8 on the BSE.
Experts say Marutis double-digit growth is likely to continue through FY15. Going forward, with a 30% increase in Celerio capacity (July onwards), expectations of industry demand recovery, coupled with multiple launches in 12-18 months, we expect MSILs double-digit growth trend to largely sustain through FY15, Motilal Oswal analysts added. Marutis domestic sales rose 31.1% in June to 1,00,964 units against 77,002 units in June 2013. Meanwhile, Mahindra & Mahindra reported a 1% y-o-y rise in its June sales to 38,471 units.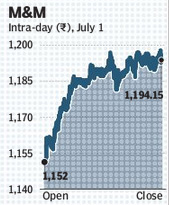 Market observers believe that the auto sector could come under pressure if monsoons dont pick up. While the Street is getting euphoric on the auto sector now, if rains continue to remain subdued, we could see concerns building up. Markets hope that the urban recovery could offset the weakness in rural spending on account of the weak monsoons, said Dharmesh Shah, auto analyst, SBICap Securities.
YTD, BSE Auto has outperformed the markets with gains of 28.4%, against 20.5% of the Sensex. Motherson Sumi has given returns of 88.4% YTD. Mahindra & Mahindra (26.6%), Maruti Suzuki (46.6%) and Tata Motors (20%) are other major gainers.