Sensex fell 137.30 points on Wednesday to end at over one-week low of 25,444.81 on concerns highlighted in the Economic Survey and diminishing expectations from the Thursday's Union Budget.
Weakness in global equities also dampened the sentiment. After slight disappointment from the Rail Budget, the market prices on Wednesday reflected investors' diminishing expectations for strong measures from the government in the Union Budget," said Rakesh Goyal, senior vice-president, Bonanza Portfolio.
Auto, power, realty, pharma, capital goods and IT shares were at the receiving end while refinery, consumer durable and FMCG counters attracted good buying support. The BSE 30-share barometer resumed better and moved erratically in a range of 25,683.97 and 25,364.77. It ended at 25,444.81, showing a fall of 137.30 points or 0.54%.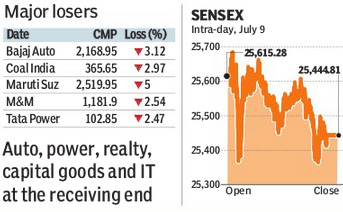 On Tuesday, it fell 517.97 points, or 1.98%, logging its biggest single-day drop in ten months. Wednesday closing value is the lowest since June 30. The Economic Survey 2013-14 presented by finance minister Arun Jaitley said GDP growth is seen at 5.4-5.9% in 2014-15. It also called for a fiscal consolidation through higher tax-GDP ratio and subsidy reforms. Before the Budget, investors took note of the economic survey which highlighted inflation & growth concerns. And, preferred to book some profits off the table and wait for further clarity," said Jayant Manglik, president-retail distribution, Religare Securities.
The 50-issue NSE Nifty declined further by 38.20 points, or 0.50%, to over 1 week-low of 7,585. Fall in the index-based counters like TCS, Tata Motors, L&T, ICICI Bank, Infosys, M&M, HDFC, Bajaj Auto and Maruti Suzuki mainly contributed to the Sensex slide.
Asian stocks ended lower triggered by concerns that equity valuations are too high. European indices were trading lower in early trade. Key benchmark indices in China, South Korea, Taiwan, Hong Kong, Singapore and Japan were down by 0.24% to 1.55%.
In Europe, indices in France, Germany and the UK were seen trading 0.02% to 0.60% lower in trade.
Among the S&P BSE sectoral indices, Auto fell 2.43%, followed by Power 1.69%, Realty 1.60%, Capital Goods 1.47%, Healthcare 1.44%, IT 1.31% and Teck 1.22%.