After putting on 1,000 points in the last 10 sessions, the Sensex lost more than 500 points on Tuesday the biggest single-day fall in 10 months ahead of the Union Budget on Thursday, reports fe Bureau in Mumbai. While global cues may have affected the sentiment somewhat, the fall was more the result of investors taking risk off the table. The fall in the broader markets was particularly steep with the BSE mid- and small-cap indices losing between 3.5% and 4.2%. The Sensex gave up nearly 2% to close at 25,582.11 points, down 517.97, while the Nifty ended down 163.95 points or 2.11% to settle at 7,623.20.
Tuesdays Rail Budget, the Modi governments first, did not enthuse the market.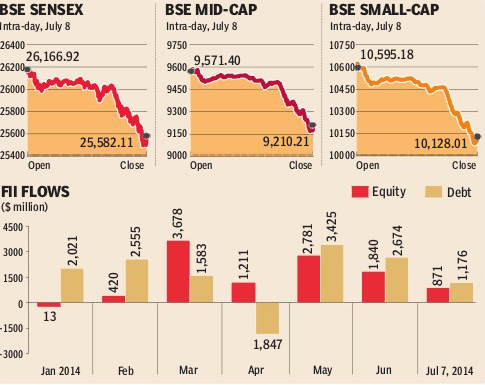 People had high expectations and this gives them an idea about the Union Budget. The market had run ahead of the fundamentals and some profit-taking is visible, said Andrew Holland, CEO, Ambit Investment. Foreign funds, however, continued to buy stocks with purchases of $71 million on Tuesday, taking their bill for the year to nearly $11 billion.