Experts believe that as the markets take cognisance of India's growth and macro parameters, benchmark valuations are likely to trend lower.
Lower valuation multiples may be the new normal for Indian equity benchmarks given the lower growth trajectory of the economy and its impact on corporate earnings.
For most part of the last two years, the price-to-earnings multiple (P/E ratio) of the Sensex has hovered below its long-term average, leading to a widespread belief that lower earnings multiples may be the new norm for Indian markets in the wake of a falling GDP growth.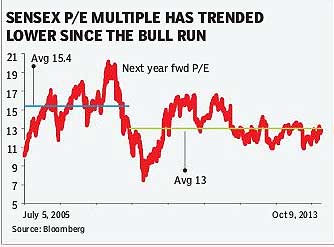 On Tuesday, the Sensex traded at 13 times its one-year forward earnings compared to its long-term average of 15 times, according to Bloomberg data. Experts believe that as the markets take cognisance of India's growth and macro parameters, benchmark valuations are likely to trend lower.
If the growth rate were to come off in a sustained manner, the valuations may also de-rate to that extent and we are seeing signs of this development already. The market is recognising the fact that India's growth rates are likely to settle in the lower range of 6-7% in the next few years compared to 8-9% and that easy money from the developed world may not be there for a sustained period of time,said a senior official of a global brokerage.
A Bloomberg compilation of forecasts by 32 economists pegged India's FY14 GDP growth at 4.7%. In the last one decade, Sensex earnings grew nearly 2.5 times India's annual GDP growth.
During the five years ended fiscal 2007-08, when India's economy on average grew at 8.7% per annum, the earnings growth turned particularly strong at nearly 24% per year. However, in the subsequent four years ended FY12 when the mean GDP rate came down to 7.7%, average earnings growth stood at about 10%. Over these four years,the Sensex one-year forward P/E multiple stood at around 13 times compared to its average of about 15 times in the previous five years.
In a recent research note, Citi observed that India seems set to going back to its old normal period of FY95-03 which was characterised by lower growth, higher uncertainty and lower market multiples. Indias new normal valuationswill likely be its old, 1995-2003 valuationaverageswhich is about 12.5X Fwd P/E multiples, the report added.
Market experts also point out that the current Sensex valuations do not represent the broader market, which is trading at much lower multiples.
Market valuations are currently driven by IT, phrama and consumption companies whereas many stocks are trading at 20-25% discount to their respective historical valuations, said Andrew Holland, CEO at Ambit Investment Advisors.
Holland pointed out that even GDP growth is driven from consumption and personal services and a pick-up in infrastructure-related activities may be required for widespread economic growth that supports more sectors.