We believe that Maricos sale of its non-core edible oil brand, Sweekar, to Cargill (for an undisclosed amount) would release resources for working capital and manpower for other brands, and improve profitability.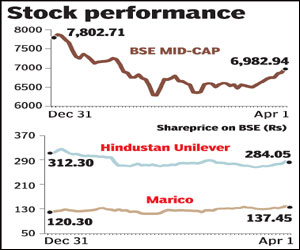 Sweekar was a less-focussed-on edible oil brand of Marico and brought in revenues of around R2bn (7% of FY11 revenues). Its Ebitda (earnings before interest, taxes, depreciation and amortisation) margin came in the low single digits.
Working capital for Sweekar and its lower pricing power were a drain on Marico. The sale would release resources like working capital and manpower that could be used to focus on the core business of beauty and wellness. Sale of Sweekar will expand return ratios for Marico.
In Q3FY11, Cargill acquired Rath from Agro Tech Foods at a price-to-sales ratio of 0.3x (times). Sweekar sells across the country, and commands a better brand recall and has more variants than Rath. Hence, Sweekar would have been sold within a price-to-sales range of 0.5x and 0.6x, implying a value of R1.1 bn to R1.3 bn.
We value the stock at R158, at a targeted PE (price-equity ratio) of 24x FY12e earnings. Our target PE is at a 35% premium to the 12-month-forward Nifty PE (a five-year average premium of 25%). However the key risks will be higher raw material prices and keener competition.