A Vietnamese navy plane has spotted an object suspected of belonging to the Malaysian Airlines flight MH370 that went missing early on Saturday. (Reuters)
With the mystery over Malaysia Airlines missing jet still no closer to solution, China's official media today slammed Malaysia for its 'slow' response in locating a passenger jet that went missing with 239 people aboard, two-thirds of them Chinese.
In a hard hitting editorial, state-run Global Times blamed the Malaysian authorities for security lapses. "The Malaysian side cannot shirk its responsibilities. Until yesterday, it could not even ensure accurate information about the passengers. The initial response from Malaysia was not swift enough."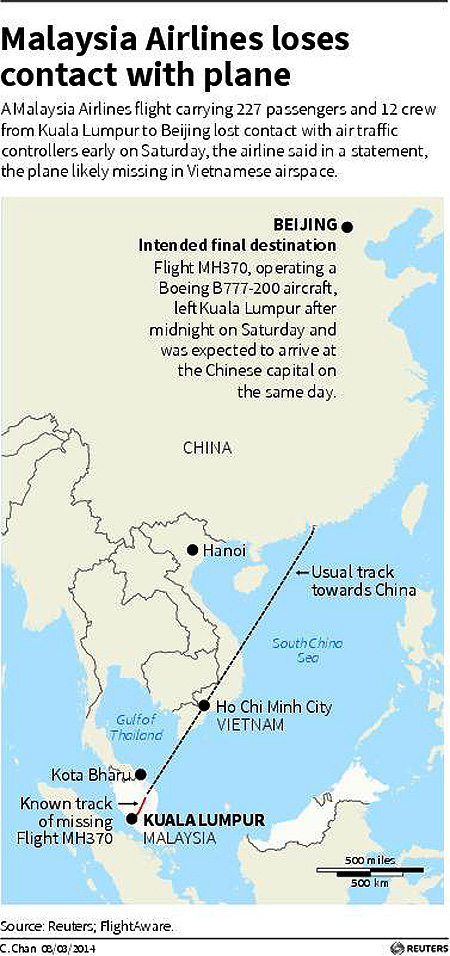 "There are loopholes in the work of Malaysia Airlines and security authorities. If it is due to a deadly mechanical breakdown or pilot error, then Malaysia Airlines should take the blame," it said as tension mounted in China over the fate of passengers of Malaysia Airlines flight MH370.
The flight went missing on March 8 over the South China Sea en route to Beijing from Kuala Lumpur. The incident received unprecedented attention in the country as 154 of the 239 people aboard the flight were from China.
"The possibility of terrorism cannot be ruled out until the plane is located and it is known for certain what brought it down," said state-run China Daily.
"Whether the missing plane is located or not, and whether its loss is due to terrorist attack or a mechanical fault or something else, the fact that some of the passengers on board were travelling with false passports should serve as a reminder to the whole world that security can never be too tight, at airports in particular, since terrorism, the evil of the world, is still trying to stain human civilisation with the blood of innocent lives," the daily said.
Malaysian authorities yesterday launched a terror probe after it emerged that two passengers boarded the flight with stolen passports.
"If this is a terrorist attack, then the security check at the Kuala Lumpur airport and on the flight is questionable. If it is due to some natural or uncontrollable factors, all airlines across the world including Malaysia Airlines should draw a lesson," Global Times said.
"Hopefully the airlines in Southeast Asia will keep a high alert and take people's inquiries into serious consideration. So must airlines in China," it said.
Picture caption: An object is seen floating in the sea on the display of a Vietnamese search airplane's camera in this March 9, 2014 handout photograph provided by the Civil Aviation Authority of Vietnam (CAAV) on March 10, 2014. A Vietnamese navy plane has spotted an object suspected of belonging to the Malaysian Airlines flight MH370 that went missing early on Saturday with 239 people on board, the Civil Aviation Authority of Vietnam said on its website on Sunday. The authority said it was too dark to be certain the object was part of the missing plane, and that more aircraft would be dispatched to investigate the site, in waters off southern Vietnam, in the morning. Reuters