A relative of a passenger aboard Malaysia Airlines flight MH370 puts a decoration inside a ring of candles, which were arranged to form a heart, to wish for the return of the passengers, in Beijing. (Reuters)
Equipment inside two nearly indestructible boxes aboard the missing Malaysia Airlines Flight MH 370 recorded critical information that would help investigators reconstruct what went wrong. The flight data recorder and cockpit voice recorder have beacons that are sending out ''pings'' which searchers could track back to the main wreckage.
Also read: Live updates on missing Malaysia Airlines plane
But the batteries will run out in about two weeks. Satellite images show debris floating in the southern Indian Ocean, but search crews still have not confirmed it is from the plane. If they can do that, searchers will calculate where the bulk of the plane may have come to rest on the sea floor - and then go to that area and start listening for the pings.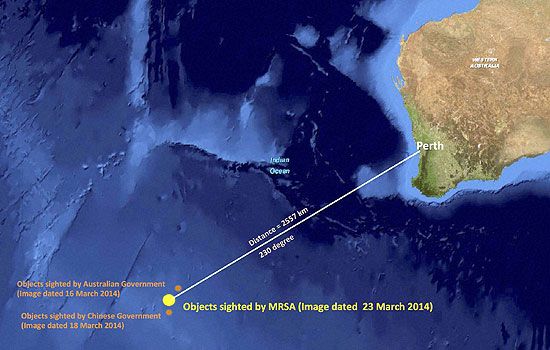 This graphic shows the approximate position of around 122 objects - believed to be parts of the missing Malaysia Airlines flight MH370 - in the southern Indian Ocean. (AP)
ORANGE, NOT BLACK
They're commonly called black boxes, but the flight data recorder and the cockpit voice recorder are actually orange - so they can be more easily seen. The data recorder logs performance and other metrics, including speed, altitude and direction. In all, it can keep 1,000 different measurements, giving investigators a rich cache of information. Those measurements cover the 25 hours prior to a crash. The voice recorder captures two hours of sound from several microphones in the cockpit. It runs on a continuous loop, so audio from the critical moments during which the plane diverted west from its Malaysia-China route - about seven hours before it is believed to have crashed - have been erased.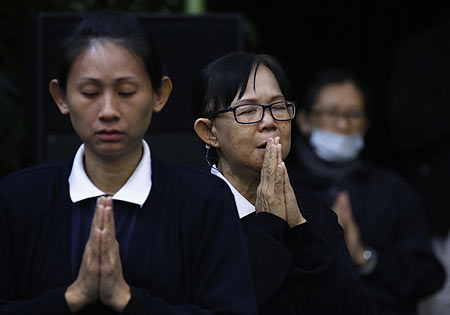 Volunteers from Taiwan pray for the passengers aboard Malaysia Airlines MH370 while family members of the passengers play a slideshow about the passengers in Beijing. (Reuters)
RACING TIME
Each recorder has its own beacon, bolted to the box's outside, which once activated by water emits a chirp every second. The chirp can't be heard by the naked ear - it requires special equipment to detect. A beacon's battery is designed to last 30 days. Once that month is up, the pings begin to fade in the same way that a flashlight with failing batteries begins to dim. According to Chuck Schofield of Dukane Seacom Inc., a company which has sold pingers to Malaysia Airlines, the batteries might ''reliably'' give five extra days before dying. The specific length depends on factors including maintenance and temperature (batteries like cold better than hot). Authorities believe the plane crashed March 8. So the pingers would begin to fade around April 7, and could go silent around April 12.
The U.S. Navy on Wednesday deployed a Towed Pinger Locator, a device that's pulled behind a vessel at slow speeds, and an unmanned underwater vehicle to Perth in western Australia. The equipment will be fitted to an Australian vessel, which according to Malaysia is expected to reach the search area April 5.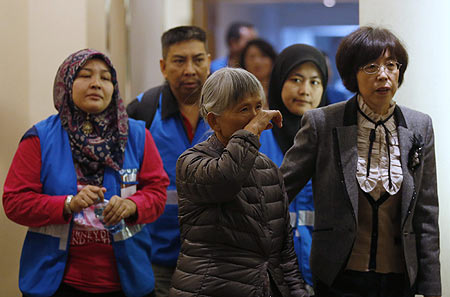 A relative (C) of a passenger aboard Malaysia Airlines MH370 reacts as she enters a meeting room with volunteers from Malaysia (in blue vests) in Beijing. (Reuters)
WHY JUST A MONTH
After the crash of an Air France flight in the Atlantic Ocean in 2009, searchers did not locate the black boxes for nearly two years. Aviation regulators began a push to extend battery life, and the European Aviation Safety Agency will require a 90-day pinger starting next year. Several years later, a second regulatory change kicks in - a much larger pinger must be added to the structure of the airframe. That would give searchers a second signal to track, one that can be detected up to eight miles (13 kilometers) away (the black box pingers have a range of about 2.5 miles (4 kilometers)).
STRONG BACK, STRONG MIND
The data and voice recorders are tough. Honeywell Aerospace made the boxes in the missing Malaysia Airlines plane. They are engineered to survive a super-hot fire for an hour, stay intact during a violent impact, and withstand the tremendous pressure of being under 20,000 feet (more than 6,000 meters) of water, Honeywell spokesman Steve Brecken said. Ocean depths in the search area average roughty 10,000 to 15,000 feet (3,000 to 4,500 meters). The flight data recorder should retain its information for at least two years.